Hurricane Harvey smashed into Texas late Friday, lashing a wide swath of the Gulf Coast with strong winds and torrential rain from the fiercest hurricane to hit the U.S. in more than a decade.
The National Hurricane Center said the eye of the Category 4 hurricane made landfall about 10 p.m. about 30 miles (48 kilometers) northeast of Corpus Christi, bringing with it 130 mph (209 kph) sustained winds and flooding rains.
Harvey's approach sent tens of thousands of residents fleeing the Gulf Coast, hoping to escape the wrath of a menacing storm that threatened an area of Texas including oil refineries, chemical plants and dangerously flood-prone Houston, the nation's fourth-largest city.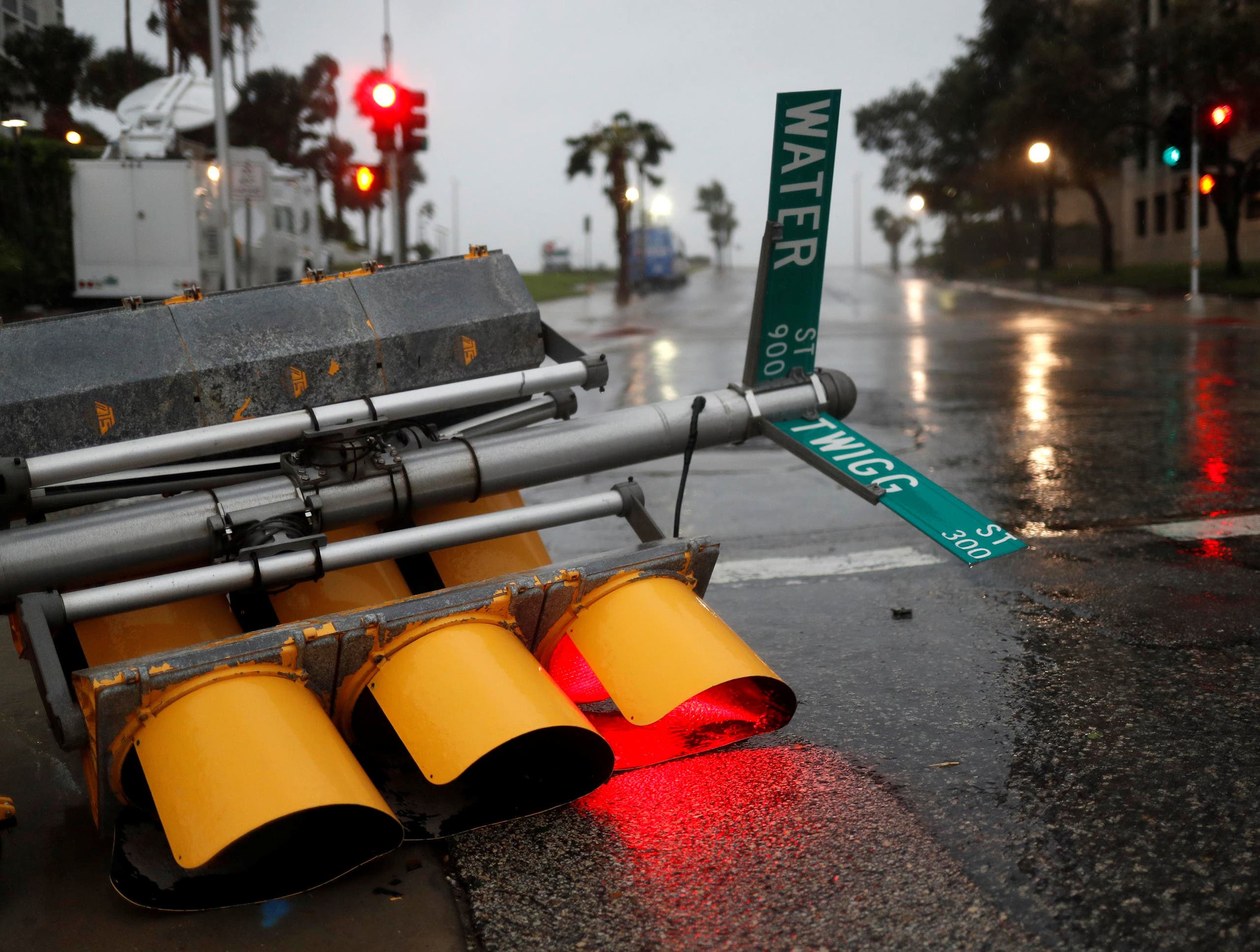 Texas Gov. Greg Abbott had warned that the monster system would be "a very major disaster," and the predictions drew fearful comparisons to Hurricane Katrina, one of the deadliest ever to strike the U.S.
The hurricane center warned that Harvey could produce life-threatening storm surges - basically walls of water moving inland - along an area of more than 400 miles (643 kilometers) from south of Corpus Christi to north of Houston.
While authorities have not confirmed any deaths from the storm so far, reports of damage began to emerge from Rockport, a coastal city of about 10,000 people that was directly in the path of Harvey when it came ashore.
City manager Kevin Carruth said multiple people were taken to the county's jail for assessment and treatment after the roof of a senior housing complex collapsed. KIII-TV reports that 10 people have been treated there. The Associated Press was unable to reach an operator at the Aransas County Detention Center in Rockport just after midnight. Carruth also said that Rockport's historic downtown area has seen extensive damage.
Earlier Friday, Rockport Mayor Pro Tem Patrick Rios offered ominous advice, telling KIII-TV those who chose to stay put "should make some type of preparation to mark their arm with a Sharpie pen," implying doing so would make it easier for rescuers to identify them.
In Corpus Christi, the major city closest to the center of the storm, wind whipped palm trees and stinging sheets of horizontal rain slapped against hotels and office buildings along the city's seawall as the storm made landfall. Boats bobbed violently in the marina. It was too dark to tell whether any boats had broken their moorings.
Many emergency crews were unable to make rescues early Saturday because of Harvey's strong winds. Melissa Munguia, the deputy emergency management coordinator in Nueces County, which includes Corpus Christi, said early Saturday that it could be several more hours before crews could fully assess the damage in coastal communities.
Fueled by warm Gulf of Mexico waters, Harvey grew rapidly, accelerating from a Category 1 early Friday morning to a Category 4 by evening. Its transformation from an unnamed storm to a life-threatening behemoth took only 56 hours, an incredibly fast intensification.
Harvey came ashore as the fiercest hurricane to hit the U.S. in 13 years and the strongest to strike Texas since 1961's Hurricane Carla, the most powerful Texas hurricane on record. Based on the atmospheric pressure, Harvey ties for the 18th strongest hurricane on landfall in the U.S. since 1851 and ninth strongest in Texas.
Aside from the winds of 130 mph (209 kph) and storm surges up to 12 feet (4 meters), Harvey was expected to drop prodigious amounts of rain - up to 3 feet. The resulting flooding, one expert said, could be "the depths of which we've never seen."
A worst case scenario is that the hurricane could hug the coast for days and stay strong enough to be a tropical storm through Wednesday at least. During this meandering time, the storm will likely dump 2 feet (0.61 meters) to 3 feet (0.91 meters) of rain, often on areas that don't handle much smaller rainfall amounts well.
Sometime early next week forecasters said it could go back into the warm Gulf of Mexico waters, which provide fuel, then turn back in for a potential second hit on what may be an already flooded Houston-Galveston area.
Before the storm arrived, home and business owners raced to nail plywood over windows and fill sandbags. Steady traffic filled the highways leaving Corpus Christi, but there were no apparent jams. In Houston, where mass evacuations can include changing major highways to a one-way vehicle flow, authorities left traffic patterns unchanged.