Hurricane Irma, one of the most powerful Atlantic storms in a century, churned across northern Caribbean islands on Wednesday with a catastrophic mix of fierce winds, surf and rain, en route to a possible Florida landfall at the weekend.
Irma is expected to become the second powerful storm to thrash the US mainland in as many weeks after devastating Hurricane Harvey, but its precise trajectory remained uncertain.
The eye of Irma, a Category 5 storm packing winds of 185 miles per hour (295 km per hour), passed over the island of Barbuda east of Puerto Rico, early on Wednesday, the US National Hurricane Center (NHC) in Miami reported, possibly hitting Florida on Saturday.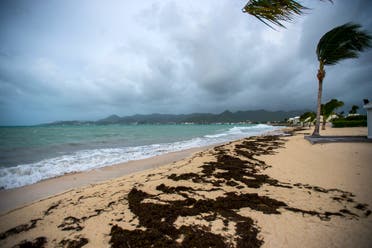 "We are hunkered down and it is very windy ... the wind is a major threat," said Garfield Burford, the director of news at ABS TV and Radio on the island of Antigua, south of Barbuda. "So far, some roofs have been blown off."
Most people who were on Antigua and Barbuda were without power and about 1,000 people were spending the night in shelters in Antigua, according to Burford.
"It's very scary ... most of the islands are dark so it's a very, very frightening," he said.
The amount of damage and the number of casualties were not known early on Wednesday. A 75-year-old man died while preparing for the storm in Puerto Rico's central mountains, police said.