Multiple people were shot on Wednesday inside a Walmart store in a Denver suburb, local police said. Police in Thornton, Colorado, did not release any information on the number of victims and it was not clear if an assailant had been taken into custody, taken his own life or been slain by officers.
"We've got multiple parties down, we're still trying to ascertain what their conditions are," Officer Victor Avila of the Thornton Police Department told Reuters.
About an hour after the initial alert the Thornton Police Department said on Twitter that the gunfire had ended at the store, which was surrounded by police and fire crews.
"At this time this is NOT an active shooter. Active crime scene. We will update as info becomes available," the police department said in a tweet. Thornton is city of about 120,000 people roughly 16 km northeast of Denver.
Officers at the scene
Avila said that police were called to the store at about 6:30 p.m. Mountain time (8:30 p.m. ET) and that the gunshots had ceased by the time the first officers arrived at the scene.
An hour after the incident, the situation, the nature of the incident or status of the threat remained unclear, he said.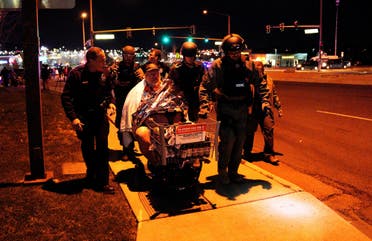 Local NBC affiliate 9NEWS reported that a woman whose son was in Walmart had told her that he had heard about 30 gunshots and was still inside.
A video posted on Twitter showed the Walmart, which is situated in a large complex of big-box stores and other retail outlets adjacent to US Interstate 25, apparently empty except for police officers with guns drawn.