German police said a suspicious object that prompted the evacuation of a Christmas market in Potsdam on Friday was an "explosive".
"Suspicions of an unconventional explosive device have been confirmed," police in Brandenburg state said on Twitter.
The device was found in a package found at a pharmacy just off the Christmas market in central Potsdam, a picturesque city near Berlin that was once a residence for the kings of Prussia.
Police said a pharmacist had sounded the alert after finding a can with wires inside the package.
Parts of the city center as well as the Christmas market were evacuated on Friday afternoon as bomb disposal units were deployed.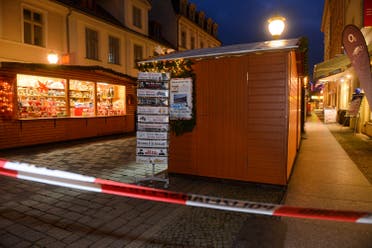 Germany has been on high alert for possible militant attacks after last December's deadly attack at a Berlin Christmas market.

The attacker, Tunisian asylum seeker Anis Amri, hijacked a truck and murdered its Polish driver before killing another 11 people and wounding dozens more by ploughing the heavy vehicle through the festive market in the center of the city.
He was shot dead by Italian police in Milan four days later while on the run.
Germany has since been targeted again in attacks with radical Islamist motives.
In July 2017, a 26-year-old Palestinian asylum seeker wielding a knife stormed into a supermarket in the northern port city of Hamburg, killing one person and wounding six others before being detained by passers-by.
German prosecutors said the man likely had a "radical Islamist" motive.
And at the end of October, German police arrested a 19-year-old Syrian identified only as Yamen A. suspected of planning a "serious bomb attack" using powerful explosives.
The ISIS also claimed responsibility for a number of attacks in 2016, including the murder of a teenager in Hamburg, a suicide bombing in the southern city of Ansbach that wounded 15, and an axe attack on a train in Bavaria that left five injured.
Germany remains a target for militant groups, in particular because of its involvement in the coalition fighting ISIS in Iraq and Syria, and its deployment in Afghanistan since 2001.
German troops in the anti-ISIS coalition do not participate in combat operations but support it through reconnaissance, refueling and training.
Germany's security services estimate there are around 10,000 Islamic radicals in Germany, some 1,600 of whom are suspected of being capable of using violence.
Chancellor Angela Merkel has allowed in more than one million asylum seekers in the past two years -- a decision that has driven the rise of the far-right Alternative for Germany (AfD) party, which charges that the influx spells a heightened security risk.