US President Donald Trump on Tuesday announced the departure of his top diplomat Rex Tillerson, to be succeeded by the current CIA chief Mike Pompeo.
"Mike Pompeo, Director of the CIA, will become our new Secretary of State. He will do a fantastic job!" Trump tweeted.
"Thank you to Rex Tillerson for his service!" he added.
The US president announced the appointment of Gina Haspel to head the Central Intelligence Agency -- the first woman tapped for the post.
US President Donald Trump spoke of his disagreements with ousted secretary of state Rex Tillerson, including over the Iran nuclear deal, as he explained his decision to replace him with Mike Pompeo.
"We got along actually quite well but we disagreed on things," Trump told reporters.
"When you look at the Iran deal, I thought it was terrible, he thought it was okay. I wanted to either break it or do something, he felt a little differently. So we were not really thinking the same."

Mike Pompeo, Director of the CIA, will become our new Secretary of State. He will do a fantastic job! Thank you to Rex Tillerson for his service! Gina Haspel will become the new Director of the CIA, and the first woman so chosen. Congratulations to all!

— Donald J. Trump (@realDonaldTrump) March 13, 2018
Outgoing US Secretary of State Rex Tillerson did not speak to President Donald Trump before he was sacked Tuesday and has not been given a reason for his ouster, a top aide said.
"The secretary did not speak to the president this morning and is unaware of the reason, but he is grateful for the opportunity to serve, and still believes strongly that public service is a noble calling and not to be regretted," Undersecretary of State Steve Goldstein said.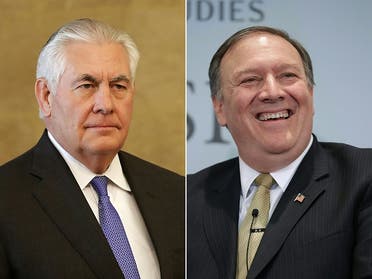 Tillerson arrived back in Washington before dawn on Tuesday after a tour of African countries and a few hours later Trump announced abruptly on Twitter that he was to be replaced by CIA director Mike Pompeo.
"We wish Secretary-Designate Pompeo well," Goldstein -- who is undersecretary of state for public affairs and public diplomacy -- said, in a series of tweets from his official account.
"The secretary had every intention of remaining because of the tangible progress made on critical national security issues. He established and enjoyed relationships with his counterparts," he said.
"The secretary will miss his colleagues at the Department of State and enjoyed working together with the Department of Defense in an uncommonly robust relationship," he added, in a nod to Tillerson's close working relationship with Secretary of Defense Jim Mattis.
CIA's Pompeo to bring insider's touch to secretary of state role
CIA Director Mike Pompeo, as the next secretary of state, would bring a number of assets to his new role as the top US diplomat: the confidence of President Donald Trump, government experience and an insider's knowledge of Congress and the federal bureaucracy.

The 54-year-old conservative Republican has served since last year as CIA director. He will replace fired Secretary of State Rex Tillerson in the biggest Cabinet shakeup of Trump's presidency.

Pompeo, a former US Army officer and Harvard Law School graduate who represented a Kansas district in the US House of Representatives before being tapped to lead the CIA, is seen as a Trump loyalist who has enjoyed a less hostile relationship with career spies than Tillerson had with career diplomats.

While some intelligence officers have said that Pompeo tends to tell Trump what he wants to hear rather than giving him their assessments, others say they have been impressed by his intellect, willingness to listen and advocacy of more robust covert operations.
Unlike Tillerson, a former businessman who lacked government experience when Trump picked him last year as secretary of state, Pompeo is well aware of the ways of Washington.

Current and former officials said Pompeo was likely to get along better with Congress and with the White House, not least because of his conservative bent.

The US Senate, Pompeo also would take over a State Department shaken by the departures of many senior diplomats and embittered by proposed budget cuts.
(With Reuters)