A British man who threw acid in a horrific attack at an aspiring Pakistani Muslim model while she was driving in London, ultimately deforming her whole face.
The attacker, identified as 25-year-old John Tomlin was sentenced to 16 years in prison on Friday after a court ruling.
The incident took place when the victim, Resham Khan, was celebrating her 21st birthday. Resham is also a student at Manchester University.
To make matters worse, Tomlin also injured Khan's uncle in the process who was with her in the car. Her 37-year-old relative, Jameel Mukhtar, suffered from permanent head and neck deformations. He also lost complete hearing in one of his ears.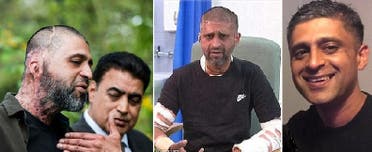 Footage obtained from surveillance cameras showed Tomlin carrying out the attack that scarred the two for life. Local British media have referred to the acid-attack as a "hate crime" against Muslims.
However, nearly a month after his crime, Tomlin handed himself to the police pleading he was "mentally challenged" and had formerly been "diagnosed as emotionally unstable and suffers from a personality disorder."
It was learned that Tomlin's health situation took a turn for the worse after he became addicted to taking drugs.