A meeting between nationalist cleric Moqtada Sadr and Iraqi Prime Minister Haider al-Abadi was held a day after the announcement of the Iraqi parliamentary election results to reaffirm close ties between both parties in forming a future government, a source close to Sadr revealed.
A statement released by Abadi on Saturday said that the meeting with Sadr came for the sake of working together to speed up the process of forming a new government, and ensure that the government will be strong, provide services for the people and job opportunities, as well as increasing people's standard of living and fight corruption.
"During our meeting, we agreed to work together and with other parties to expedite the process of forming a new Iraqi government," Abadi said at a joint press conference.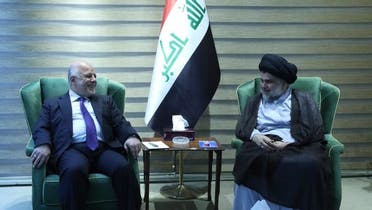 The statement added that there was an understanding between both parties in the meeting that the future government needs to be inclusive.
Sadr said that the meeting is a message of reassurance that the next government will be a "paternal" one, including and caring for all people of Iraq.
"We extend our hands to everyone building the country, and for the decision to be an Iraqi one," Sadr said, reaffirming the importance of speeding the government forming process that prioritizes the Iraqi people's needs.
Abadi called on all other blocs to accept the results and to follow legal procedures if they would like to object. He also stressed on the need for those who won the election to begin their role and tasks in parliament as soon as possible.
Two days ago, Sadr invited Ammar al-Hakim, leader of the al-Hikma bloc who won 20 seats in parliament trailing in seventh place, to create a joint vision for the future.
Sadr's Sairoon electoral list captured 54 parliamentary seats, 12 more than Abadi's.
Winning the largest number of seats does not automatically guarantee that Sadr will be able to hand-pick a prime minister.

Parties will have to align themselves to try and form a bloc large enough for the parliamentary majority necessary to nominate a candidate. The government should be formed within 90 days of the official results, but negotiations are expected to drag on for months.

The election dealt a blow to Abadi, but he could still emerge as a compromise candidate palatable to all sides because he has managed the competing interests of the United States and Iran - unwitting allies in the war against Islamic State - during his term in office.
- With Reuters