North Korea on Friday said it was still willing to talk to the United States after President Donald Trump cancelled a summit between the two countries, a decision Pyongyang described as "extremely regrettable".
North Korea's vice foreign minister Kim Kye Gwan said the North is open to resolving issues with the United States whenever and however after US President Donald Trump called off a June summit with its leader, Kim Jong Un.
"The abrupt announcement of the cancellation of the meeting is unexpected for us and we cannot but find it extremely regrettable," he said in a statement carried by the state-run KCNA news agency.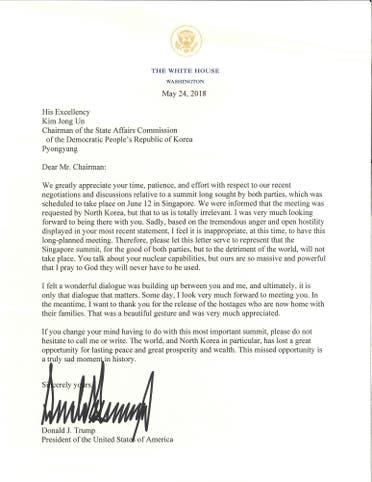 "We had set in high regards President Trump's efforts, unprecedented by any other president, to create a historic North Korea-US summit," said the vice foreign minister.

"We tell the United States once more that we are open to resolving problems at any time in any way," he added.
Trump warns that military ready
President Trump on Thursday called off a historic summit with North Korean leader Kim Jong Un scheduled for next month, citing Pyongyang's "open hostility," and warned that the US military was ready in the event of any reckless acts by North Korea.

Trump wrote a letter to Kim to announce his abrupt withdrawal from what would have been the first-ever meeting between a serving US president and a North Korean leader in Singapore on June 12.

"Sadly, based on the tremendous anger and open hostility displayed in your most recent statement, I feel it would be inappropriate, at this time, to have this long-planned meeting," Trump wrote.

It was a dramatic end to weeks of optimistic statements from Trump that by meeting with Kim he might succeed where previous US presidents had failed and persuade North Korea to give up a nuclear weapons program that now threatens the United States.

North Korean Vice Foreign Minister Kim Kye Gwan responded to Trump's announcement by saying Pyongyang remained open to resolving issues with Washington "at any time in any way."

"We had set in high regards President Trump's efforts, unprecedented by any other president, to create a historic North Korea-US summit," he was quoted as saying by the official Korean Central News Agency.

On Wednesday evening Washington time, North Korea had repeated a threat to pull out of the summit and warned it was prepared for a nuclear showdown with Washington if necessary.

White House officials said that statement in which Pyongyang also condemned US Vice President Mike Pence as a "political dummy" was "the last straw."

One senior official said there had been "a trail of broken promises" from North Korea "that has given the United States pause." That included the North Koreans not showing up to a planned meeting in Singapore last week.
SEE ALSO: Pompeo says Pyongyang relations would return to 'situation normal'

US Secretary of State Mike Pompeo, who met Kim twice in Pyongyang, said North Korea had not responded to contacts in recent days and Trump had made his decision after meetings on Wednesday in which he concluded the summit would not be successful.

"We got a lot of dial tones," Pompeo said, adding it was disappointing but "frankly not a surprise."

Speaking at the White House, Trump said he remained open to dialogue but had spoken to Defense Secretary Jim Mattis and warned North Korea against any "reckless act."

He said US allies South Korea and Japan also were ready to shoulder much of the financial burden "if an unfortunate situation is forced upon us" by North Korea.
'We'll see'
Asked if the summit cancellation increased the risk of war, Trump replied: "We'll see what happens."

He said the United States would continue its "maximum pressure" campaign of sanctions to press North Korea to give up its nuclear weapons.

Trump's move sent global share markets sharply lower before they regained some footing. Safe-haven buying of US Treasury bonds pushed their yields lower, while the dollar weakened.

The outlook for the meeting soured dramatically this month when North Korea angrily rejected the notion that it would agree to unilateral nuclear disarmament as Washington has demanded.

Trump has said he detected a change in Kim's attitude after the second of two recent visits the North Korean made to China and that he was possibly being influenced by Beijing, with which the United States is embroiled in a major trade dispute.

The cancellation came just hours after North Korea followed through on a pledge to blow up tunnels at its main nuclear test site, which Pyongyang said was proof of its commitment to end nuclear testing.

The senior White House official said that among North Korea's broken promises was one to allow experts to witness the dismantlement of the site, which meant there was no one there to verify what actually occurred. Only a small group of international media handpicked by North Korea witnessed the demolition at the Punggye-ri site.
South Korean President 'perplexed'
South Korean President Moon Jae-in, who worked hard to help set up the summit and urged Trump at a White House meeting on Tuesday not to let a rare opportunity slip away, said he was "perplexed" by the cancellation. He urged Trump and Kim to talk directly.

The reference to Pence that offended the White House came in a statement released by North Korean media citing Vice Foreign Minister Choe Son Hui. She called Pence a "political dummy" for comparing North Korea - a "nuclear weapons state" - to Libya, where Muammar Gaddafi gave up his unfinished nuclear development program, only to be killed later by NATO-backed fighters.

"Whether the US will meet us at a meeting room or encounter us at nuclear-to-nuclear showdown is entirely dependent upon the decision and behavior of the United States," Choe said.

Trump had further raised expectations for a successful summit after North Korea released three Americans this month, which he called in his letter "a beautiful gesture" by Kim.

While Trump left the door open for talks with Kim, chances for a quick rescheduling appear remote and the cancellation will renew fears of a return to conflict on the Korean peninsula.

Trump's letter also referred to the possibility of war.

"You talk about your nuclear capabilities, but ours are so massive and powerful that I pray to God that they will never have to be used," he said.