Meet the Iranian, sanctioned by US, who is behind the attack on Saudi consulate
The United States on Wednesday imposed new sanctions on Iran, including six people and three entities. Among the people included in the sanctions, the name Hameed Ostad, the controversial figure in the Iranian city of Mashhad, who planned to attack the Saudi consulate in the city on the evening of January 2, 2016.
All residents of Mashhad know Hameed Ostad because he is considered one of the main policy makers in the northwestern city, where the shrine of Imam Reza, the most important Shiite shrine in Iran, is located.
Though Hameed Ostad is not a senior official in the city but is immune to any legal prosecution. He heads militias called "Ansar Hezbollah" in the city.
It is worth mentioning that "Ansar Hezbollah" in Mashhad are not affiliated with the group of "Ansar Hezbollah" in the Iranian capital Tehran, which was included in the US Treasury list of sanctioned factions on Wednesday. The two militias are considered radical extremists organizations in Iran.

Iranian websites quoted an official who asked not to be named, saying that Hameed Ostad was leading the rally in front of the Saudi consulate.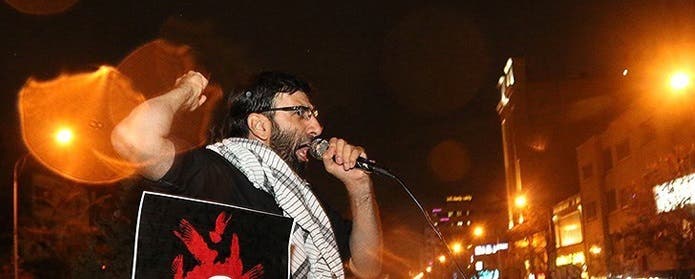 "The violence began after three masked men climbed the consulate wall and got a signal from Hameed Ostad.
The attack on the Saudi diplomatic headquarters in Iran has provoked a wave of Arab and international condemnations, and resulted internal differences inside Iran itself as particularly some government officials did not support it.
The consequent political, diplomatic and media pressure has led the Iranian government to accuse "uncontrolled groups" as being behind this incident.
In parallel, social media inside Iran have circulated names of officials responsible for attacking Saudi diplomatic headquarters, including Hameed Ostad.
At the time, some media outlets tried to interview Hameed Ostad, but he was nowhere and could not be reached. According to Iranian websites, Ostad left Iran to Syria to support Bashar al- Assad regime, by taking place in the war.
"Ansar Hezbollah" in Mashhad have many similar activities, including banning musical concerts, by staging attacks or attacking political celebrations of non-fundamentalist movements.