Iraqi police surrounded the headquarters of an Iran-backed militia and detained one of its members after an armed clash Wednesday left three people wounded in Baghdad, a security official said.
A shootout erupted after a police patrol in the Iraqi capital stopped a car, only for a convoy of Hezbollah Brigades members to arrive, an interior ministry official said on condition of anonymity.
"The men in five vehicles opened fire and the police responded. Two policemen were wounded and one of the members of Hezbollah Brigades," he said.
The police then quickly surrounded the militia headquarters "where the fighters had holed up", the official said, closing down one of Baghdad's main thoroughfares.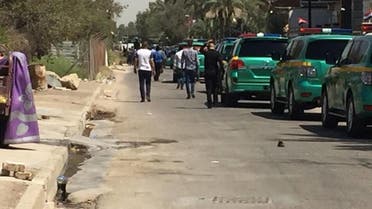 The siege was lifted after the "person behind the shooting" was arrested, the official said.
The flare-up in violence was rare for the Iraqi capital, which has seen clashes drop off dramatically since a sectarian conflict over a decade ago.
Independent of the authorities in Baghdad, the Hezbollah Brigades are also fighting on the side of President Bashar al-Assad in Syria.
The group was targeted Sunday in air raids laid at Israel's door that reportedly left some 50 people dead in eastern Syria, where forces on the ground are battling ISIS remnants.
Israel has pledged to take all steps to stop key Assad backer Iran or its "proxies" building up a military presence in Syria.