Members of a Thai youth football team, who were trapped in a flooded cave for more than a week, held a news conference on Wednesday before they were set to return to their homes.
The news conference, held in a government building in Chiang Rai, was the boys' first opportunity to speak directly to the media.
The boys, whose ages range from 11 to 16, and their 25-year-old coach answered questions submitted by the media, including about the lessons they learned during their experience.
"I tried not to think about food otherwise I would feel even hungrier," said a smiling 11-year-old Chanin Wibulrungreung.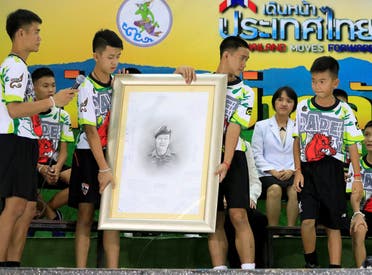 All they boys said they want to apologies to their parents, most of whom had not been informed in advance about the trek to the cave after practice.
"I know that I will get yelled at by mom" one of the boys said, jokingly, when asked what he expected to happen when he got home.
Doctors said the 13 were healthy in body and mind.
They said the boys regained around 3 kilograms (6.6 pounds) on average since they were rescued from the cave, after losing an average of 4 kilograms (9 pounds) during their two-week entrapment.
The news conference was the first opportunity the members of the team had to speak directly to the media, though video of them was released previously.
Officials reviewed questions in advance to make certain none might cause damaging psychological effects.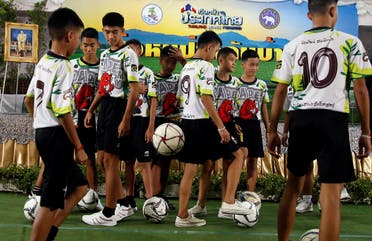 The Wild Boars teammates had entered the Tham Luang cave on June 23 for what was to be a quick, relaxing excursion after soccer practice.
But rain began falling while they were underground, and water filled the caverns, cutting off their escape.