Thousands of protesters blocked all the exits at a southern Indian airport for more than 14 hours on Friday, stopping a rights activist from heading to a Hindu temple to defy a centuries-old ban on most women entering.

Campaigner Trupti Desai said she had decided to retreat for now to avoid a confrontation, but promised to return to Kerala unannounced in her next attempt.

Widespread protests broke out in the state after India's top court ordered authorities in September to lift a ban on women or girls aged between 10 and 50 from entering the temple, which draws millions of worshippers a year.

Conservative Hindu groups say the restriction is meant to bar girls and women who might be menstruating, which they say would defile the temple's inner shrine.

Desai arrived with a group of women at Kerala's biggest and busiest airport in the city of Kochi, at 4.30 a.m. (2230 GMT Thursday) and said she planned make the 155km (100-mile) journey to the Sabarimala hill temple and enter it on Saturday.

But protesters massed around the exits and police advised her group not to try to get through because of safety concerns.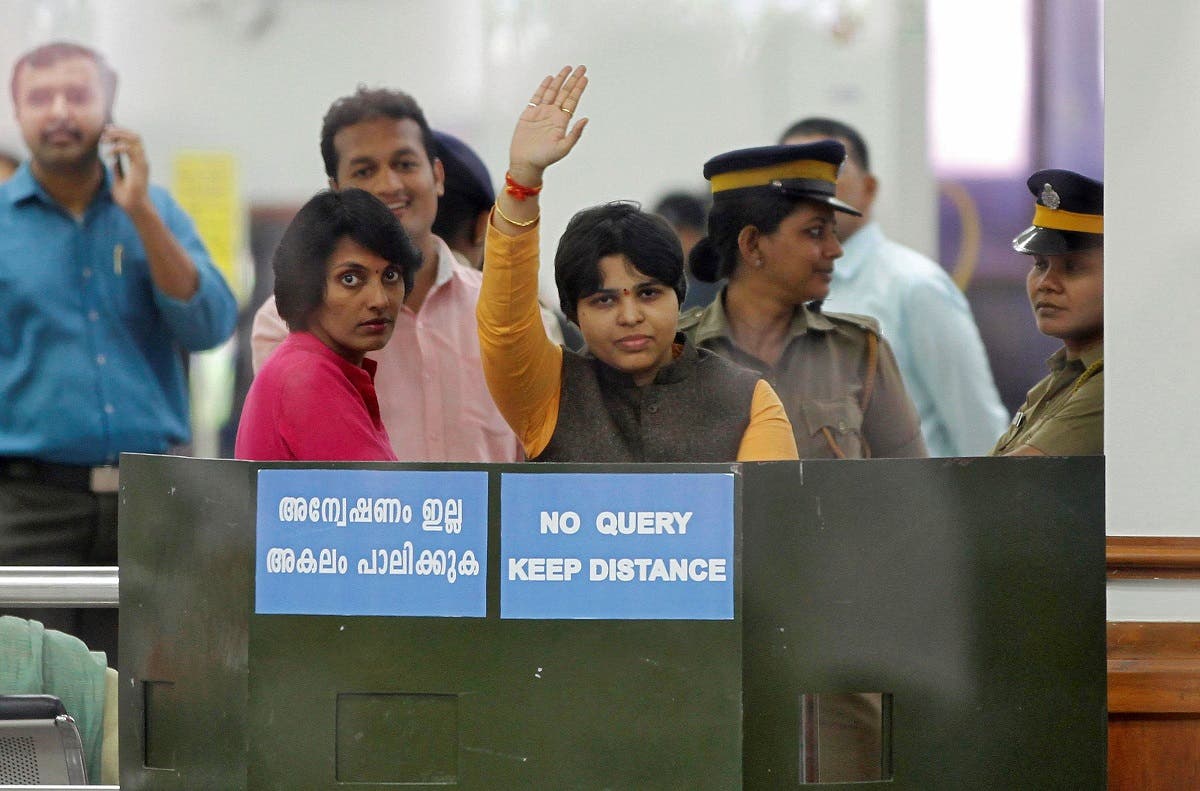 "We are returning not because we are afraid, but because the police advised us that the situation could spiral into a deeper law and order situation. We do not want to create that," Desai told reporters.

"We booked taxis three or four times, but drivers said they were threatened their vehicles would be vandalized if they offer us a ride," she said.
"Right to pray"
Hotels had also been reluctant to offer rooms because they feared they would be attacked, she added. "This kind of bullying and hooliganism are unacceptable," Desai told Reuters.

Desai has led a successful campaign to give women the right to enter the inner sanctums of three temples in the western state of Maharashtra under the slogan "Right to Pray".

"Desai has come as an activist. She has come to create trouble at Sabarimala. We will not allow this," said 55-year-old Rajeswari Amma, a worshipper of the Sabarimala deity from Aluva, about 12km from the airport.

Thousands of demonstrators have protested against the Supreme Court's decision, and conservative Hindu groups prevented about a dozen young women from entering the temple last month.

The court has set Jan. 22 to hear nearly 50 petitions seeking reimposition of the ban. Until then, its earlier ruling allowing women entry stays in force, it said.

As a result, the state government, run by the Communist Party of India, and legally bound to follow the court, finds itself at loggerheads with devotees and opposition parties who want the ban to continue until the court review.

The temple administration plans to file a petition with the top court requesting more time to implement its order, Travancore Devaswom Board president A. Padmakumar told reporters.

The hillside temple, nestled in a forest in the Western Ghats mountain range, reopened at 5 p.m. (1130 GMT) on Friday and will remain open for more than two months, with a three-day break in December.