An estimated 75,000 people were taking part in the "yellow vest" protests across France at 3:00 pm (1400 GMT) on Saturday, the interior ministry said in a statement.
The number was well below the first day of protests on November 17, which attracted around 282,000 people, and also down from the 106,000 who turned out last Saturday.
Al Arabiya's Paris Bureau Chief Hussein Kneiber, who is reporting from the middle of the protests, said Yellow Vests demonstrators are attempting to approach the famed Eiffel Tower while police are attempting to calm the situation near Champs-Elysee.
At least 183 protesters have been arrested so far while 80 have been confirmed injured, including members of the French security forces.
Speaking at Paris police headquarters, French PM Edouard Philippe said over 5,000 protesters were on and around the Champs-Elysees avenue.
Authorities said 5,000 police were deployed in Paris to try to contain the protests.
They marched on the famed avenue behind a big banner writing "Macron, stop taking us for stupid people."
Thousands of police were deployed to try to contain the protests on and around the famed Champs-Elysees avenue.
Most of the protesters, called "yellow jackets" for the fluorescent vests they wear, were peaceful. But others mixed in with them wore black hoodies and piled up construction materials, including large plywood planks, in the middle of a street near the Arc de Triomphe, and set the rubble on fire.
Khattar Abou Diab, the director of the Council on Geopolitics and Perspectives in Paris, told Al Arabiya that this leaderless movement so far will test Macron's leadership as protests go on for a third consecutive weekend.
"The ruling party and leadership in France was betting that this disorganized and leaderless protest movement would die down eventually but observers say it's not just about the numbers. But it's about the breadth of the protests which has now spread to parts of outer Paris. The fact that the protests have reached the heart of the Champs-Élysées has given the protesters a push themselves to keep going on," Diab said.
Police responded by firing bursts from a water cannon with backup from riot officers, who used tear gas on the protesters.
In addition to rising taxes, demonstrators are furious about President Emmanuel Macron's leadership. A demonstration last weekend in Paris also turned violent.
Earlier Saturday, hundreds of people gathered at the top of the Champs-Elysees on Saturday morning. Access to the avenue was closed to cars and strictly monitored by police with identity checks and bag inspections. Police used tear gas to disperse the crowds as some tried to force their way through.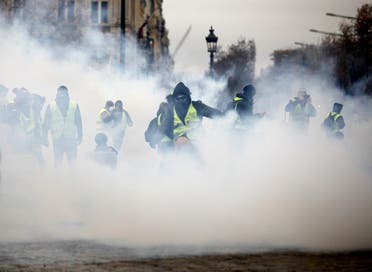 The protests, which began with motorists demonstrating against a fuel tax hike, now involve a broad range of demands related to the country's high cost of living.
Shopkeepers on the Champs-Elysees prepared for possible new violence, bringing in workers to barricade boutique windows with boards. Decorative iron grates, used last week in barricades, were removed from around trees and outdoor terraces dismantled.
All subway stations in and around the famous avenue were closed for security reasons, Paris public transport company RATP said.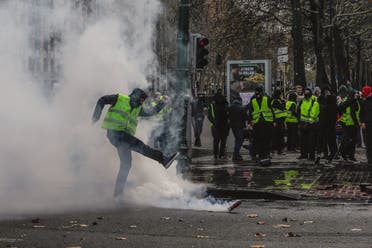 Last week, French authorities said 8,000 people demonstrated on the Champs-Elysees avenue. Some of the protesters torched barriers and plywood boards. Police fired tear gas and water cannons to push back angry demonstrators.
Since the protests kicked off Nov. 17, two people were killed and hundreds injured in accidents stemming from the protests since they kicked off Nov. 17, and hundreds of protesters and police have been injured.
Meanwhile, hundreds of roads blockades were also held quietly across the country.