An accountability court in Pakistan on Monday sentenced former prime minister Nawaz Sharif for seven years on graft charges.
The court found the three-time prime minister was unable to prove the source of income for the ownership of a steel mill. The court also imposed on him a fine of $2.5 million.
Police escorted former prime minister from the court-room and authorities later confirmed that he was being shifted to 'Kot Lakhpat' jail.
Sharif was sentenced in July this year to 10 years in prison by the same court, on charges related to the purchase of upscale apartments in London, after the Supreme Court removed him from power. He was released from prison in September pending an appeal.
The court, however, acquitted him in the Flagship Investments reference. Accountability Judge Arshad Malik while reading out the short order said that there was no case against Nawaz in the Flagship reference.
The accountability court had had reserved judgement in both the references on December 19, filed by the National Accountability Bureau (NAB) against the former premier.
Right to appeal
Sharif's political party the Pakistan Muslim League (Nawaz), or PML-N, expressed reservations over the verdict and said it will appeal in a higher court.
"Nawaz Sharif deserves the right to appeal against the verdict in higher court. We will use all the legal options against the verdict," Maryam Aurangzeb, a leader of Sharif's party and former federal Information minister told Al Arabiya English.
The Opposition parties have reacted sharply to the verdict but didn't question the judiciary. Government of Prime Minister Imran Khan vowed to implement court order in spirt.
Following the verdict, some members of Sharif's party took to the streets in small cities protesting the decision. However, there were no reports of casualty or burning of property until filing of this report.

Daughter's tweet
Sharif's daughter, Maryam Nawaz, also did not blame the court but claimed that the accountability court's verdict was "based on assumptions".
Maryam took to Twitter and said: "Punishment to the same man for the fourth time. [This was] blind revenge's last hiccup but victory is Nawaz Sharif's, thank God".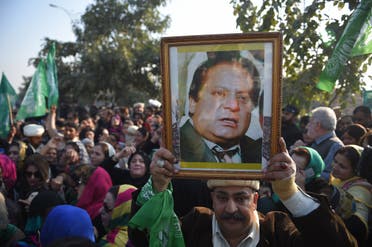 "After two-and-a-half years of revenge-like accountability, after rummaging through three generations, not a penny's worth of corruption, kickback or commission was found," she tweeted.
Rumors were doing the rounds in Islamabad that some other political stalwarts including Asif Ali Zardari, co-chairman of Pakistan People's Party (PPP) and former president of Pakistan may be arrested by authorities soon.
Former prime minister
Shahid Khaqan Abbasi, who succeeded Sharif as prime minister last year, said the PML-N would appeal the verdict but would "not resort to violence". "The people of Pakistan and history will not accept this decision," he told reporters in Islamabad.
The Supreme Court disqualified Sharif from politics for life over the allegations last year, and directed an anti-corruption body to investigate three different charges regarding his family's properties and businesses.
The months-long saga has seen him appear before accountability courts 165 times since September 2017, according to the English-language Dawn newspaper.
Sentenced in July
In July this year, he was convicted in one case revolving around family properties in London, and sentenced to 10 years in prison.
Sharif has been prime minister three times but power has been a rough ride. He was first expelled from office in 1993 on suspicion of corruption. He won an election in 1997, only to be ousted and exiled after a military coup in 1999.
He returned to Pakistan in 2007 and took power once more in 2013 until his ousting last year.
(With Agency inputs)