Around 70 people were trapped after a hotel collapsed in China's eastern Fujian province on Saturday evening, officials said, adding that the hotel was recently converted into a quarantine facility for coronavirus patients.
Xinjia Hotel collapsed around 7:30 pm (1130 GMT) and around 23 people had been rescued by 9:00 pm, according to a Quanzhou city government statement.
#BREAKING: A hotel building collapsed in Quanzhou, SE China's Fujian at around 7 pm Saturday, trapping an unknown number of people under it. So far 16 people have been rescued. Rescue work remains underway. pic.twitter.com/rK7tEagQvV

— People's Daily, China (@PDChina) March 7, 2020
The 80-room hotel was recently converted to a quarantine facility for people who had recent contact with coronavirus patients, the People's Daily state newspaper reported.
State news agency Xinhua said rescue efforts were ongoing.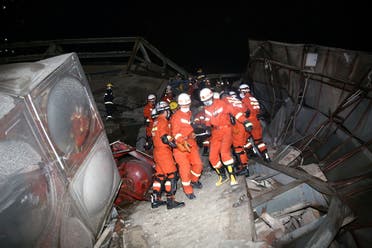 #BREAKING: A five-storey hotel in Quanzhou in the Fujian province suddenly collapses on March 7 evening. Several Chinese media outlets say that the hotel is currently being used as a quarantine site for #COVIDー19. About a dozen have been rescued. Internet video. pic.twitter.com/dMIJivGXlI

— Ezra Cheung (@ezracheungtoto) March 7, 2020
Read more:
Coronavirus: Kuwait quarantines 104 citizens arriving from Iraq
Over 100 Saudis disclose recent travels to Iran amid coronavirus outbreak
What are the chances of surviving coronavirus? It depends on your age and gender
Something is rotten in the Islamic Republic: Iran's sinister coronavirus cover-up
How deadly is the coronavirus and is there a cure: 10 questions answered