Lebanon's Central Bank Governor Riad Salameh said he will not resign, arguing that there is more work to do in pursuing his strategy to get the country out of its deep economic crisis.
Salameh said the central bank is not responsible for the deficits in the government or current accounts, which have cost the country some $81 billion over the last five years, he told CNBC in an interview broadcast Tuesday.
"It's not the central bank that created these deficits," he added.
For all the latest headlines follow our Google News channel online or via the app.
Salameh was long regarded as a bulwark of stability in Lebanon's shaky financial system. But recent reports have shown the central bank pursued a method of creative accounting to inflate its assets by $6 billion in 2018, casting shadows over his legacy.
Having been at the helm of the central bank since 1993, he implemented a series of financial engineering mechanisms beginning in 2016 designed to keep the economy afloat.
One economist previously told Al Arabiya English that had he not done this, the country would've collapsed years ago.
But new reports have underlined the extent and later damage some of his moves would cause. Salameh inflated bank assets via "unorthodox accounting measures," the Financial Times reported at the end of July. Experts told the FT that they had never seen such measures used and the accounting procedures "might be being erroneously used to obscure losses," suggesting that Lebanon's ongoing economic crisis might be even more dire than believed.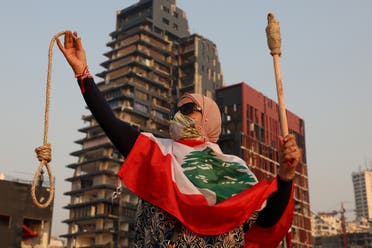 Acute economic pain set in October 2019 as a shortage of dollars, which are needed to buy imports for the country heavily reliant on outside goods, became evident.
Salameh has taken drastic measures, with all banks in Lebanon told to raise their capital by 20 percent by February 2021 or be forced to exit the market. Banks that are told to leave the market will be forced to surrender their ownership to the central bank. Salameh has not speculated on how many of the country's nearly 40 banks are likely to be affected by the new rules.
Speaking to CNBC, Salameh said according to law 70 it is the duty of the central bank to maintain stability in the credit market.
Read more:
Expecting the collapse: Meet Lebanon's young political party ready to take power
One month after the deadly Beirut port explosion, how is Lebanon coping?
Exasperated by their leaders, Lebanese find hope in a dog named Flash
The law states that, "The overall duty of the [central bank] shall be the safeguard of currency as a fundamental guarantee for permanent economic and social development, and more specifically: safeguarding a sound Lebanese currency, safeguarding economic stability, safeguarding the basic structure of the banking system, developing the monetary and financial market."
Salameh, however, did not elaborate on his plan to save Lebanon, adding that the Lebanese have a right to call for him to step down, as many have done. In June, the central bank said it aimed to bring down the price of the US dollar progressively with the agreement of licensed foreign currency dealers to help stabilize prices as much as it can. The Lebanese pound has already lost over 80 percent of its value, and while it has stabilized some in recent weeks, it still trades well over its official pegged value of 1,507.5 pounds to the dollar.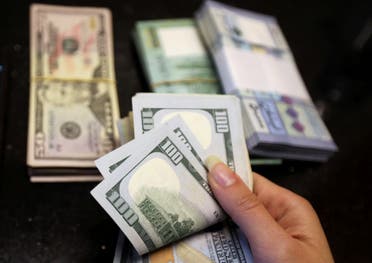 "But they don't have to say that this is the central bank of Lebanon that's responsible for this situation. We didn't create the deficit in the government," Salameh argued. "What we did are regulations that have helped maintain for 27 years this country afloat while it lived wars, assassinations, civil strife."
The country defaulted on its $1.2 eurobond payment in March, effectively defaulting on its debt and triggering talks with the International Monetary Fund to restructure around $90 billion in debt.
Read more: Lebanon's hyperinflation: Cereal can cost $40 at the official exchange rate
The government has said it needs an international rescue package to bail the country out, and has asked for $10 billion from the IMF. Authorities are also hoping to cash in on $11 billion in aid and soft loans pledged at a 2018 donor conference. However, all the money is contingent upon reforms, none of which have yet to materialize.
France's Emmanuel Macron has given new Prime Minister-designate Mustapha Adib two weeks to form a cabinet and three months to begin implementing reforms across multiple sectors. Adib was appointed after then Prime Minister Hassan Diab resigned in the wake of the August 4 explosion at the Port of Beirut that killed at least 191 and destroyed entire neighborhoods of the capital.
The economic plan presented by Diab's cabinet primarily blamed the banking sector for the country's woes.