Military helicopters rescue more than 150 as fires tear through California
More than a dozen California firefighters trying to protect a mountain fire station from flames were overrun by the blaze Tuesday, and several were hurt. Elsewhere, military helicopters rescued more than 150 people stranded in the burning wilderness.
Fourteen firefighters and bulldozer operators deployed emergency shelters as flames overtook them and destroyed the Nacimiento Station in the Los Padres National Forest on the state's central coast, the US Forest Service said. They suffered from burns and smoke inhalation, and three were flown to a hospital in Fresno, where one was in critical condition.
For all the latest headlines, follow our Google News channel online or via the app.
The injuries came as wind-driven flames of more than two dozen major fires chewed through bone-dry California after a scorching Labor Day weekend that saw a dramatic airlift of more than 200.
Rescue choppers pulled another 164 people from the Sierra National Forest through the morning and were working to rescue 17 others, said Gov. Gavin Newsom, who described pilots wearing night-vision goggles to find a place to land.
"It's where training meets the moment, but it always takes the courage, the conviction and the grit of real people doing real work," Newsom said.
Compared to last year, California has seen over 2,650 more fires and a nearly 2000% increase in the acres burned year-to-date (January 1 – September 7), across all jurisdictions. pic.twitter.com/hv7LmbI5AD

— CAL FIRE (@CAL_FIRE) September 8, 2020
California has already set a record with nearly 2.3 million acres (930,776 hectares) burned this year, and the worst part of the wildfire season is just beginning.
"This is historic," Newsom said in a briefing from Sacramento.
The previous acreage record was set just two years ago and included the deadliest wildfire in state history, which swept through the community of Paradise and killed 85 people.
That 2018 blaze was started by power lines amid strong winds and tinder-dry conditions. Liability from billions of dollars in claims from that and other fires forced the state's largest utility, Pacific Gas & Electric, to seek bankruptcy protection. To guard against new disasters, the company last year began preemptive power shutoffs when fire conditions are exceptionally dangerous.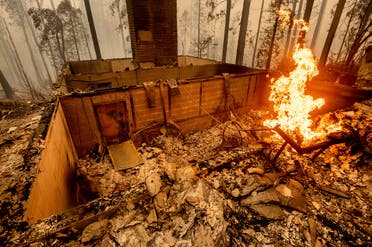 That's the situation now in Northern California, where high and dry winds are expected until Wednesday. PG&E said it has learned from past problems and will seek this year to make the outages "smaller in size, shorter in length and smarter for customers."
Over the weekend, the company cut power to 172,000 customers to try to prevent more blazes.
More than 14,000 firefighters are battling fires around the state. Two of the three largest blazes in state history are burning in the San Francisco Bay Area.
In Southern California, fires burned in Los Angeles, San Bernardino and San Diego counties, and the forecast called for the arrival of the region's notorious Santa Ana winds. The US Forest Service on Monday decided to close all eight national forests in the region and to shutter campgrounds statewide.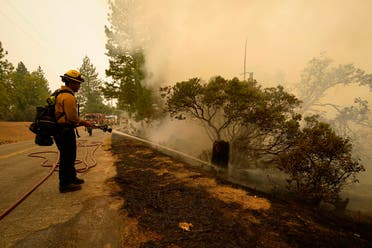 "Existing fires are displaying extreme fire behavior. New fire starts are likely. Weather conditions are worsening, and we simply do not have enough resources to fully fight and contain every fire," said Randy Moore, a forester for the Forest Service's Pacific Southwest region that covers California.
While the two mammoth San Francisco Bay Area fires were largely contained after burning for three weeks, firefighters struggled to corral several other major blazes ahead of the expected winds. Evacuation orders were expanded to more mountain communities Monday as the so-called Creek Fire burned through the Sierra National Forest in Central California.
Read more:
Satellite imagery reveals hotspots as California wildfires continue to burn
Wildfire season: Southern California 'Apple Fire' forces nearly 8,000 to evacuate