US elections
US Elections: No clear winner in Trump-Biden race, legal battles expected
Voters woke up Wednesday with no clear winner in the 2020 Presidential Election between President Donald Trump and Democratic candidate Joe Biden, as key battleground states remained up for grabs.
Trump suggested his opponents were trying to steal the election, while Biden said he was confident that he was on track to win.
For all the latest headlines follow our Google News channel online or via the app.
But the race was too close to call in the states of Michigan, Pennsylvania, North Carolina, Nevada, Georgia and Wisconsin.
Around 50 percent of the votes mailed in Pennsylvania have not been counted, a top official in the state said Wednesday.
"We've got somewhere between 2.5 and 3 million ballots … Counties are about 50 percent done," Kathy Boockvar, Pennsylvania's secretary of state, said in a televised press conference.
She said 260,000 ballots were cast by mail in 2016 during the last presidential election.
But Boockvar added that votes from military personnel and overseas government officials' ballots were not due until next week. "We are going to accurately count every single ballot," she said.
Pennsylvania is allotted 20 Electoral College votes. According to Al Arabiya English's tally, President Donald Trump has 213 votes compared to the Democratic nominee Joe Biden's 238.
Pennsylvania Gov. Tom Wolf said the results might not be announced Wednesday.
Officials in the state are at loggerheads over whether to accept ballots that arrive after the Nov. 3 Election Day.
The Republican Party controls both legislatures in Pennsylvania, but the governor is a Democrat. The Supreme Court is expected to decide if, as Trump said early Wednesday morning, litigation is sought by the Republicans.
More than 100 million Americans cast their ballots ahead of Election Tuesday, shattering previous records and setting up this year's voter turnout to be significantly higher than 2016.
Biden entered Election Day with multiple paths to victory, while Trump, playing catch-up in a number of battleground states, had a narrower but still feasible road to clinch 270 Electoral College votes.
Trump won Ohio, Florida and Texas while Biden won Minnesota, New York and California.
With 16 Electoral College votes, Georgia will be closely watched.
Trump led in Michigan shortly after midnight on Tuesday, but 40 percent of the votes remained uncounted in the two states, respectively.
There are 538 Electoral College votes allotted to the 50 states and Washington, DC. It takes 270 votes to win.
Senate and Congress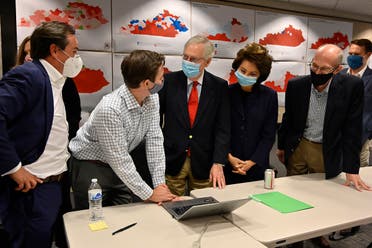 Control of the Senate was at stake, too: Democrats needed to net three seats if Biden captured the White House to gain control of all of Washington for the first time in a decade.
Senate Majority Leader Mitch McConnell of Kentucky won reelection in an early victory for the Republicans.
The House was expected to remain under Democratic control.
Read more:
US Election Day: States to watch that could determine Trump-Biden winner
US Elections 2020: Biden not making predictions on election outcome
- With AP