US Election: Trump sues battleground states, calls for recounts as Biden optimistic
The Trump campaign announced Wednesday that it had filed lawsuits to halt vote-counting in the battleground states of Michigan, Georgia and Pennsylvania while demanding a recount in Wisconsin.
President Donald Trump's personal lawyer, Rudy Giuliani, headed to Pennsylvania earlier where he and Trump's son, Eric, lambasted Democrats and poll workers in the state.
For all the latest headlines, follow our Google News channel online or via the app.
"Massive cheating," Giuliani tweeted. "Will not let Philly Democrat hacks steal it!"
En route to Philadelphia with legal team.

Massive cheating.@realDonaldTrump up by 550,000 with 75% counted.

Will not let Philly Democrat hacks steal it!

— Rudy W. Giuliani (@RudyGiuliani) November 4, 2020
Later, the Trump campaign said it was suing to stop vote-counting in the state over the lack of 'transparency,' and announced the intention of requesting Supreme Court intervention.
The president's team then said it was filing yet another lawsuit in a third state, Georgia.
In Michigan, where Democratic nominee Joe Biden was declared the winner by the Associated Press, the secretary of state called Trump's lawsuit "frivolous." Jocelyn Benson said that all valid ballots cast in Michigan had been tabulated securely and accurately.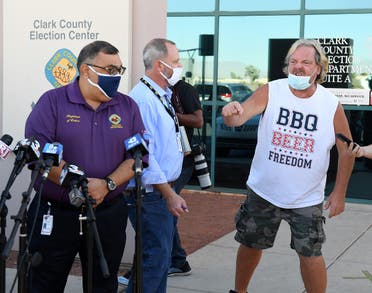 Wisconsin was also called a win for Biden, but Trump's campaign immediately requested a recount.
Read more:
US Election: If Biden wins White House, Republican Senate will likely block his goals
Trump or Biden: Who is winning the US election? Here are the polls state by state