US officially removes Sudan from State Sponsor of Terror list: Embassy
The US has officially removed Sudan from its State Sponsor of Terror list, said the US Embassy in Khartoum on Monday.
"The congressional notification period of 45 days has lapsed and the Secretary of State has signed a notification stating rescission of Sudan's State Sponsor of Terrorism designation is effective as of today (December 14), to be published in the Federal Register," the embassy posted on Facebook.
Sudan has been placed on the US terror list in 1993.
US Secretary of State Mike Pompeo said on Monday that Sudan's designation as a State Sponsor of Terrorism had been "officially rescinded."
"This represents a fundamental change in our bilateral relationship toward greater collaboration and support for Sudan's historic democratic transition," Pompeo said in a statement.
"We commend the calls of the Sudanese people for freedom, peace, and justice, and we congratulate the members of the civilian-led transitional government for their courage in advancing the aspirations of the citizens they serve," Pompeo added.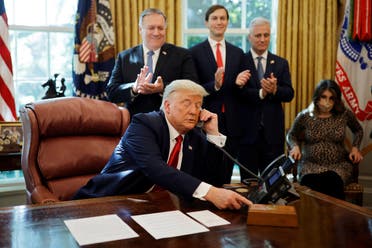 Outgoing US President Donald Trump had announced in October that he would take Sudan off the list, which also includes North Korea, Iran, and Syria.
Sudan's new civilian-led government had advocated for the step following its rise to power after the fall of former President Omar al-Bashir and his military regime.
As part of a deal, Sudan agreed to $335 million to compensate survivors and victims' families from the twin 1998 attacks on US embassies in Kenya and Tanzania, carried out when al-Bashir was welcoming al-Qaeda, and a 2000 attack on the USS Cole off Yemen's coast.
According to the October announcement, once the compensation money was deposited, Trump was to sign an order removing Sudan from the terrorism list on which it has languished under heavy American sanctions for 27 years.
The expansion of the Abraham Accords to include Sudan is a significant step that will further enhance regional security while creating opportunities for Sudan and Israel to deepen economic ties and improve the lives of their people. https://t.co/2OnazrKSJq pic.twitter.com/ao21LI903S

— Department of State (@StateDept) December 12, 2020
Sudan's transitional government, which took over last year following Bashir's overthrow, has also agreed to recognize Israel, a major goal for Trump, although Khartoum has sought to downplay the connection.
Sudan became the third Arab state - after the United Arab Emirates and Bahrain - to move to normalize relations with Israel this year. After Sudan, Morocco also established diplomatic ties with Israel.
Read more:
Sudan's PM visits Ethiopia, as Tigray refugees top 50,000
Sudan nears removal from US terror list amid Congress debate
With AFP.