Outgoing US Secretary of State Mike Pompeo is expected to provide new evidence that shows ties between Iran and al-Qaeda, political sources familiar with the top American diplomat's plans to speak later Tuesday have said.
Pompeo spotted with Director of #Israel's Mossad Yossi Cohen at Cafe Milano tonight before his speech on #Iran and #AlQaeda, in which he might discuss the killing of al-Masri in Tehran. 🤔 https://t.co/PX4j8I4Cmv

— Jason Brodsky (@JasonMBrodsky) January 12, 2021

A man and his daughter who were killed in Tehran last summer were not Lebanese nationals as Iran's Fars news agency reported at the time. In fact, the man was al-Qaeda's Egyptian-born number two Abou Mohammed al-Masri, who was wanted by the US for his role in the bombing of multiple US embassies in Africa, according to a previous New York Times report which cited intelligence officials.
VIDEO: #HamzabinLaden is said to have married the daughter of al-Qaeda's second-in-command, Abdullah Ahmed Abdullah and also known as Abu Mohammed al-Masri.

Read more: https://t.co/mqlCqePcfr pic.twitter.com/DkPV7vQ029

— Al Arabiya English (@AlArabiya_Eng) January 19, 2018

Miriam is reportedly the widow of Osama bin Laden's 11th son, Hamza, who was his father's heir in the terrorist group. US President Donald Trump announced the killing of Hamza in September 2019.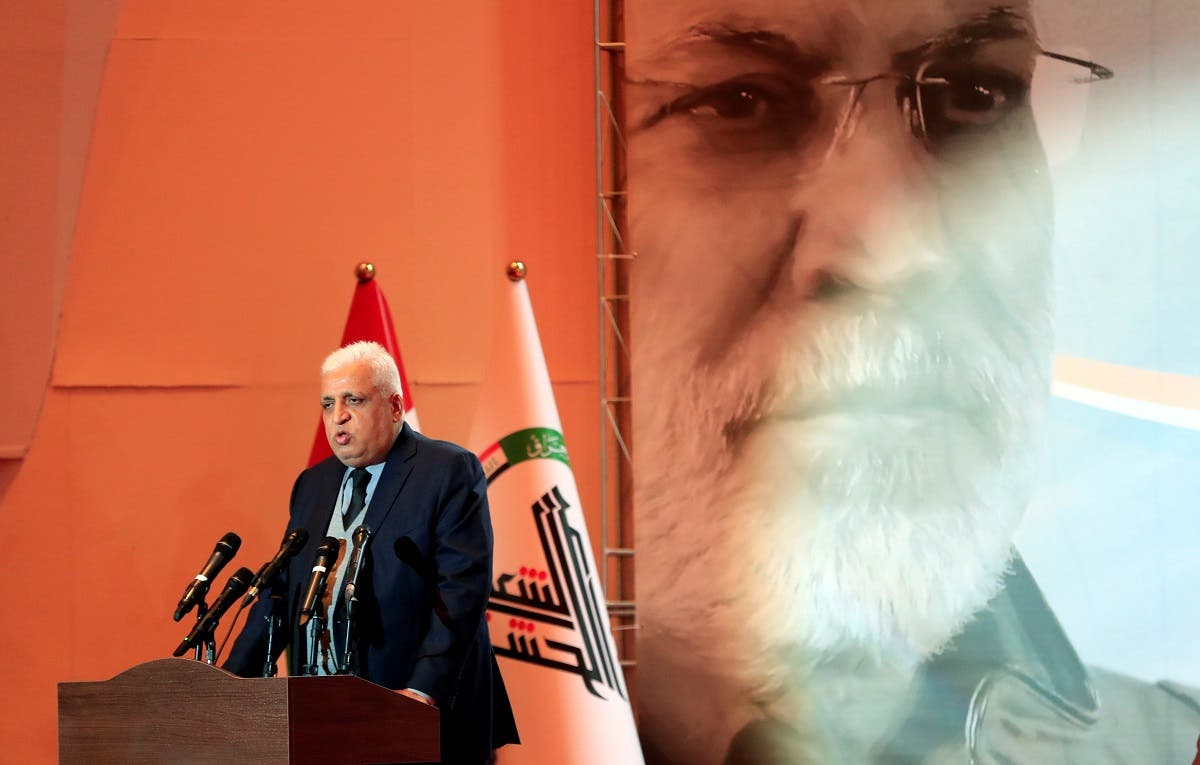 Head of the Popular Mobilization Unit militias Falih al-Fayyadh speaks during the forty days memorial, after the killing of Iran's Quds Force top commander Qassem Soleimani and Iraqi militia commander Abu Mahdi al-Muhandis. (Reuters)

The US Treasury accused him of leading militia that killed hundreds of protesters with live ammunition during a crackdown on anti-government demonstrations in 2019. It said he had coordinated with Iran's Revolutionary Guards.
SHOW MORE
Last Update: Tuesday, 12 January 2021 KSA 10:16 - GMT 07:16