No progress on ceasefire in Ukraine-Russia talks: Ukraine FM
No progress over a possible ceasefire in Ukraine was made in talks between top Russian and Ukrainian diplomats on Thursday, Ukraine's foreign minister said.
For the latest headlines, follow our Google News channel online or via the app.
Ukraine will not surrender by giving in to Russia's demands, including giving up a bid to join NATO, but is ready to seek diplomatic solutions, Ukrainian foreign minister Dmytro Kuleba added.
Speaking after the talks in southern Turkey, Kuleba told a news conference that the most difficult situation was in the Ukrainian city of Mariupol, and that Lavrov did not commit to a humanitarian corridor there.
For his part, Russian foreign minister Sergey Lavrov placed the blame for the conflict on Western powers, claiming that they forced Ukraine to choose between Russia and the West.
Russia will try to never again be dependent on the West, the Russian foreign minister added. Lavrov also said that President Vladimir Putin would not refuse a meeting with his Ukrainian counterpart Volodomyr Zelenskyy to discuss "specific" issues.
Russia and Ukraine's foreign ministers met on Thursday in the first high-level talks between the two countries since Moscow invaded its neighbor, with Ankara hoping they could mark a turning point in the conflict.
Television footage showed the Russian and Ukrainian delegations sitting at tables facing each other, either side of a delegation headed by Turkish Foreign Minister Mevlut Cavusoglu.
Lavrov showed no sign of making any concessions, repeating Russian demands that Ukraine be disarmed and accept neutral status. He said Kyiv appeared to want meetings for the sake of meetings, and blamed the West for intensifying the conflict by arming its neighbor.
The city council of Mariupol said the port had come under fresh air strikes on Thursday morning and Ukraine said Russia committed "genocide" by bombing a maternity hospital there on Wednesday. Lavrov said the building was no longer used as a hospital and had been occupied by Ukrainian forces.
"What kind of country is this, the Russian Federation, which is afraid of hospitals, is afraid of maternity hospitals, and destroys them?" President Volodomyr Zelenskyy said in a televised address late on Wednesday, after posting footage of the wreckage, showing massive damage to the building.
Deputy Prime Minister Iryna Vereshchuk said Ukraine would try to open seven humanitarian corridors on Thursday, including another attempt to reach Mariupol. Daily missions to rescue civilians there have failed since Saturday.
Moscow's stated objectives of crushing Ukraine's military and removing its leaders remained out of reach, with Zelenskyy unshaken and Western military aid pouring across the Polish and Romanian borders.
Russian forces have advanced in the south but have yet to capture a single city in the north or east. Western countries have said they believe a planned lightning strike on Kyiv failed in the early days of the war, and Moscow has instead turned to tactics that involve far more destructive assaults.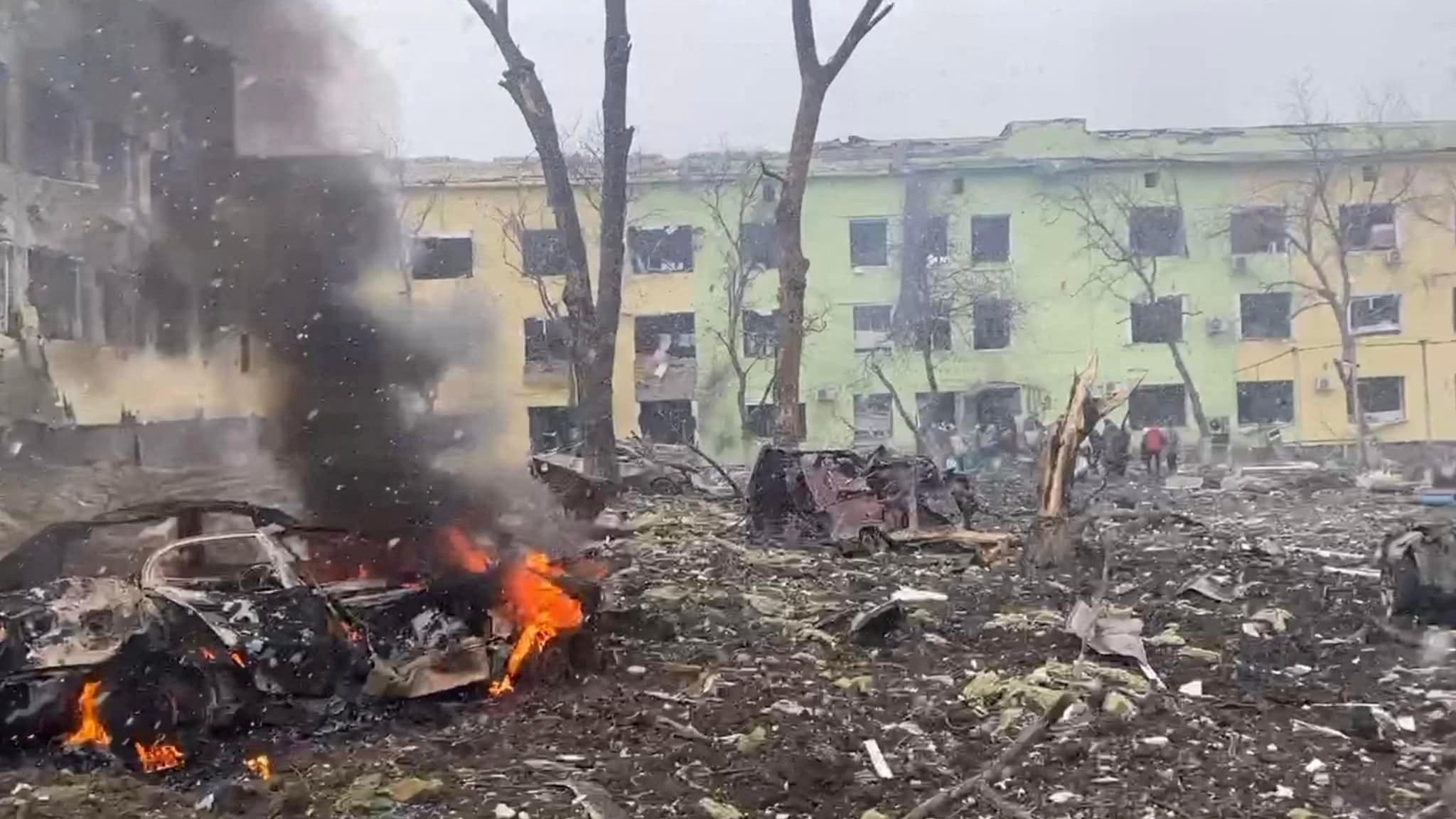 The UK Defense Ministry said on Thursday that a large Russian column northwest of Kyiv had made little progress in over a week and was suffering continued losses. It added that as casualties mount, Russian President Vladimir Putin would have to draw from across the armed forces to replace the losses.
Putin has said the advance by his forces in Ukraine was going according to plan and to schedule. Russia calls its incursion a "special operation" to disarm its neighbor and dislodge leaders it calls "neo-Nazis".
Western-led sanctions designed to cut the Russian economy and government from international financial markets have bit hard, with the ruble plunging and ordinary Russians rushing to hoard cash.
In the latest Western sanctions move, Britain added several Russian businessmen to its blacklist, including Roman Abramovich, owner of Chelsea soccer team. The sanctions would block the sale of the club but a special license would let it keep playing and paying salaries.
Turkey's balance
Bringing Lavrov and Kuleba together marks "a step forward" and could escalate diplomacy at higher levels in Moscow, said Mustafa Aydin, professor at Kadir Has University in Istanbul.
"Russia is not yet close to entertaining peace, though it is slowly changing its stance," he said. "Its initially uncompromising posture is slowly giving way to a negotiation stance though not yet enough for a concrete outcome."
Turkey shares a maritime border with Russia and Ukraine in the Black Sea and has good ties with both. Ankara has called Russia's invasion unacceptable and appealed for an urgent ceasefire, but has opposed sanctions on Moscow.
While forging close ties with Russia on energy, defense, and trade, and relying heavily on Russian tourists, Turkey has also sold drones to Ukraine, angering Moscow. It also opposes Russian policies in Syria and Libya, as well as its 2014 annexation of Crimea.
Turkish Foreign Minister Mevlut Cavusoglu said both Lavrov and Kuleba had requested that he attend the talks on Thursday, adding he wished the meeting could be a "turning point".
At the weekend, Turkey and Israel ramped up their push for mediation. Turkish President Tayyip Erdogan urged Russian President Vladimir Putin to declare a ceasefire in a call on Sunday.
Israeli Prime Minister Naftali Bennett held talks with Putin in Moscow at the weekend, and later spoke to Ukrainian President Volodomyr Zelenskyy.
Read more:
Ukraine open to Russia's neutrality demand but won't yield territory, aide says
Ukraine's Zelenskyy says Putin's nuclear threat a 'bluff,' 'shows weakness'