Fourteen people including Ukraine's interior minister and a child were killed when a helicopter crashed in fog near a nursery outside Kyiv on Wednesday, in what President Volodymyr Zelensyy called a "terrible tragedy."




Several bodies lay on the ground of a courtyard, their boots sticking out from under blankets, after the helicopter - described by the air force spokesperson as a French Super Puma - slammed into a building in Brovary, northeast of the capital.

The crash caused a large fire, and an entire side of the local nursery building was charred. The Kyiv region's governor said children and staff had been in the nursery at the time of the crash shortly after 08:00 (06:00 GMT).

For the latest headlines, follow our Google News channel online or via the app.

Officials said it was too early to know what caused the crash. None spoke of an attack by Russian forces waging war in Ukraine.

"We saw wounded people, we saw children. There was a lot of fog here, everything was strewn all around. We could hear screams, we ran toward them," said Hlib, a 17-year-old local resident.

"We took the children and passed them over the fence, away from the nursery as it was on fire, especially the second floor," he said near the nursery, where people left flowers and soft toys at a small makeshift memorial.

The national police chief confirmed that Interior Minister Denys Monastyrskyi had been killed along with his first deputy, Yevheniy Yenin, and the ministry's state secretary. Monastyrskyi was 42 and had been interior minister since July 2021.

Hours after the crash, the government named national police chief Ihor Klymenko as acting interior minister.

The State Emergency Service put the death toll at 14, including the three helicopter crew and six others on board. One child was killed on the ground and 11 other children were among 25 injured people, it said. The agency had earlier reported a higher toll, which it revised down without explanation.

Vitaliy, a 56-year-old resident, said he saw the helicopter fall quickly and crash onto the grounds of the nursery in the center of a residential courtyard. The debris continued on its path to a nearby block of flats, he said.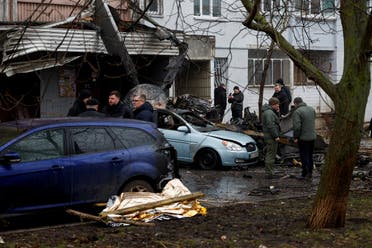 The helicopter wreckage later lay crumpled by an apartment block, rotor blades resting against the entrance.

Above the charred entrance to the two-story nursery building was a gaping hole several feet wide.

"There was no explosion. I thought it was the engine from a rocket or something like that, something very large, about 10 meters tall," Vitaliy said.

Describing a large fire that then broke out, he said: "It even became warm in the room I was in," he said. "Of course it was scary."
Investigation launched
"Today, a terrible tragedy occurred in Brovary, Kyiv region," Zelenskyy said on the Telegram messaging app. "The pain is unspeakable."

The SBU State Security Service said it was investigating and considering several possible causes for the crash, including a breach of flight rules, a technical malfunction and the intentional destruction of the helicopter.

Two witnesses described seeing an object hurtling toward the nursery from a northwesterly direction.

"It was at about the height of the houses… those nine-story ones. It was very low, and I saw red colors on it," one woman said.

The crash was another blow to Ukraine, days after 45 people were killed in an apartment block hit during a Russian missile attack on the east-central city of Dnipro.

Air force spokesperson Yuriy Ihnat said it could take at least several weeks to investigate the disaster.

British Home Secretary Suella Braverman called Monastyrskyi "a leading light in supporting the Ukrainian people" during Russia's invasion and said she was struck by his determination, optimism and patriotism.

Read more:
Russia's commissioner denies talks on large prisoner exchange with Ukraine
Ukraine closer to receiving modern Western battle tanks, more Patriots