Doctor warns of 'Ozempic face' side effect of diabetes drug used for weight loss
A doctor recently warned of "Ozempic face," a side effect many have said made them look older after taking the diabetes drug for weight loss.

In an interview with Fox News morning show Fox & Friends, Dr. Marc Siegel explained as people tend to "overuse" the drug for fast weight loss, "the buccal mucosa, the fat, leaves your face, and you become gaunt looking."
He also warned that the side effects could be irreversible.


"It's something that happens to us anyway as we get older," he explained but fast weight loss speeds up the process.

According to a Fox News report, people have reported "sagging skin, an older appearance and a 'gaunt face'" after the use of common diabetes drugs for weight loss rose in popularity, mainly due to social media trends.

Despite the side effects, Dr. Siegel praised the drug.

"Ozempic is actually a great drug. It's the first weight loss drug I've seen that I think really works," he told the morning show. "It actually improves insulin, it improves getting rid of sugar, it decreases hunger…"

Even while he praised the diabetes drug, the doctor pointed out that diet, exercise and lifestyle changes should be followed first before reverting to "a chemical."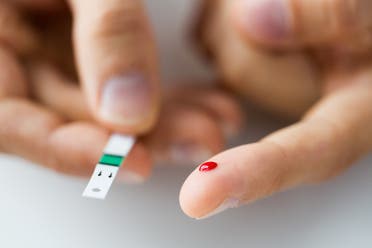 Ozempic, Saxenda shortage
An increased demand for diabetes injections such as Ozempic and Saxenda due to popular social media trends and celebrity promotions has contributed to a global shortage.

Al Arabiya English recently reported doctors warning non-diabetics against using such injections for weight loss saying they are far more dangerous than people think.

Like any medication, Semaglutide and Liraglutide when used for weight loss alone or as part of diabetes treatment plan can cause a variety of side effects, doctors told Al Arabiya English.

Common side effects of such injections include nausea, diarrhea, constipation, headache, abdominal pain, dizziness, fatigue, and low blood sugar.

Such injections have strict criteria that must be considered before starting treatment due to their risks, Dr. Maya Kabbara, Specialist in Endocrinology and Metabolism at Healthbay Clinic Dubai, told Al Arabiya English.

"There are strict inclusion and exclusion criteria that must be considered. That means not everyone who wants to lose some weight is eligible to use them," the doctor added.
Clinical Dietitian and Weight Reduction Counselor at Mediclinic Parkview Hospital in Dubai Dr. Mona Joumaa also pointed out these medications have not been studied or tested in other patients.


"It is not safe to take these medications if you do not fit the criteria for which they have been approved. They have not been studied or approved for use in other patient populations, and their safety and effectiveness in those populations is not known."
Al Arabiya English's Tamara Abueish contributed to this report.
Read more:
Doctors warn against Saxenda, Ozempic 'quick fix' diabetes injections for weight loss
Surge in UAE demand for Ozempic diabetes injections for weight loss: Doctors
American multi-millionaire, 45, spends $2 million every year to look, feel like teen