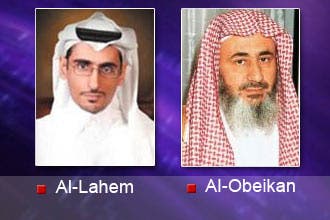 Saudi FM hopes rape ruling will be revised
Victim's husband defends her on TV
Saudi Foreign Minister Prince Saud al-Faisal has told reporters in Washington that he hoped the sentence against a gang-raped Saudi woman would be revised, adding the ruling was used to vilify his government even though it was not responsible because courts are independent.

Earlier, the husband of the victim, known as "Qatif girl", announced on TV that his wife was not cheating on him when she was subjected to a brutal gang-rape.

Speaking to reporters while in Washington to attend a Middle East peace conference in Maryland, al-Faisal said: "Unfortunately, these things happen...Issues like that, bad judgments by the courts, happen everywhere, even in the United States."

"It is a process that is still going on. This is being reviewed by a legal process and we hope it will be changed," he said.
The 19-year-old wife at the center of the case was abducted and raped along with a male companion by seven men.

Ruling according to Saudi Arabia's reading of Islamic law, a court had originally sentenced the woman to 90 lashes for being alone with an unrelated man and the rapists to prison terms of up to five years.

The Supreme Judicial Council this month increased the sentence to 200 lashes and six months in prison and ordered the rapists to serve between two years and nine years in prison.
On-air debate
Meanwhile, Saudis were glued to the screen as former Saudi judge Sheikh Abdul-Mohsen Al-Obeikan and the victim's lawyer Abdul-Rahman Al-Lahem engaged, in the presence of the victim's husband, in a heated debate about the rape case that took place in March 2006.

As Obeikan spoke on behalf of the husband "whose bed has been soiled" by the wife's deed and Al-Lahem criticized the ruling against the victim, the husband said his wife was innocent of the 'illicit privacy' charge.

Regarding the man she was with when the rape took place, the husband said he was aware of why his wife was meeting the other man and that this meeting was devoid of any sexual purposes.

"My wife might have made a mistake by meeting the man on her own, but the reason why she met him was to get a picture he had of her. She was, in fact, protecting her marriage by doing that."

The husband strongly denied Obeikan's allegations that during the interrogation, the wife confessed to having an affair with the man: "I was there, and she never said that."

When asked why they were late in reporting the incident, the husband replied that what happened was too much for "a girl of her age" and that she was in a deplorable physical and psychological state.

In response to Obeikan's allegations, the husband stressed that he is a devout Muslim who would never defend an unfaithful wife and expressed his indignation at how the case was handled.

"Instead of being considerate for what she's going through, you are ruining her reputation," he charged.

The husband also made it clear that there is a difference between being alone with a man, an act he considers wrong but not a major crime, and having an actual affair.

"You have to ask yourself: What was the intention of the meeting? Do the conditions of illicit privacy apply?," he said.