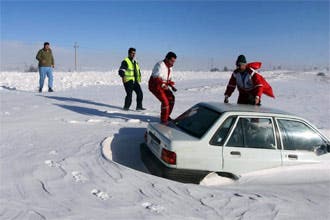 Eight freeze to death in record Iran snowfalls
Worst snows in 40 years with lows of -24 Celcius
At least eight people froze to death in the heaviest snowfalls to have hit Iran in years, with some areas brought to a virtual standstill and 40,000 stranded on roads on the first night, officials said on Tuesday.

The snowfalls, said to be the worst in some 40 years, forced all schools and government offices to close in Tehran and other regions in northern Iran over the past two days.

The eight fatalities "were stuck on the roads and died of cold and freezing," the head of Iran's natural disasters control centre, Hossein Bagheri, told the ISNA news agency.

He added that 20 more people were killed in road accidents attributed to the bad weather, with 290 people injured and 40,000 stranded on the first night of heavy snow on Saturday.
They were transferred to nearby schools and mosques by rescue services.

Air travel also continued to suffer major disruption, with several flights cancelled from Iran's Imam Khomeini International Airport (IKIA) and hundreds of passengers stranded, the official IRNA agency reported.

Among the victims of the delays was Germany's Hansa Rostock football team, which has been stuck in Iran for the past three days after defeating the Iranian national side in a friendly game on Saturday.

The lowest temperature overnight was minus 24 degrees Celsius (minus 11 Fahrenheit) in Shahre Kord in Western Iran, while the capital Tehran registered minus 7 degrees Celsius (19 F), the television said.

Several towns in northern and western Iran have been hit by gas cuts during the cold spell amid a surge in demand and also an unexpected cut in imports from Turkmenistan.

Traffic authorities have also urged motorists to avoid unnecessary trips as many major roads remain blocked.

Tehran and several other cities in the north and centre of Iran lie at altitudes of more than 1,000 meters (3,300 feet) above sea level and are regularly hit by heavy falls of snow in winter.

Meanwhile, the dunes of the Kavir-e Lut desert in southwestern Iran were covered in a dusting of snow for the first time in living memory, IRNA reported.