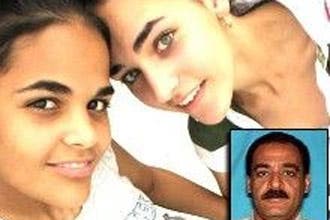 Egyptian dad sought in Texas honor killings
Son says Islam not to blame for double murder
Friends and family buried two Texas teenaged sisters whose Egyptian-born father is thought to have shot them to death on New Year's Day in an apparent honor killing, press reports said on Sunday.

As the bodies of Sarah and Amina Yaser Said were laid to rest, the girls' American mother and brother pleaded for help in finding their father, 50-year-old cabdriver Yaser Abdel Said who is still on the run, The Dallas Morning News reported.

Amina, 18, and Sarah, 17, both high school students, were found shot to death in a taxi outside a motel in Irving, Texas, on Jan. 1. Police believe their father killed them.
The sisters' great-aunt Gail Gartrell said Said had physically abused the two girls for years. She said the girls' mother had fled around Christmas because of Said's threats to kill the girls after he learned they had boyfriends, she told the paper.

She said the mother returned after Said said he would move out so they could reconcile. Within a few days, the girls were dead, she said.

Before the funeral, the girls' mother and brother called on the father to surrender to police.

"I just want him to pay for what he did to my girls," said Patricia Said, who is in hiding with her son, Islam, until her husband is captured, the paper reported.

It said Islam has previously disputed widespread rumors and media reports that his Muslim father's religion may have been the reason for the so called "honor killings," a practice in which a man kills a female relative who he believes has shamed the family honor.

Irving police said they are exploring all possible motives for the slayings and that the family had some previous domestic problems.

On the night they were found slain, one of the sisters called 911 from a mobile phone and said she was dying, the paper reported. Police soon found the two dead of multiple gunshot wounds in a taxi at a service entrance of an Irving hotel.

Two funerals were held for the girls – a Christian service followed by a short Muslim service.

Dr. Yusuf Kavakci, head of the Richardson mosque, alternating between English and Arabic, told mourners that all living things are destined to die. Another imam talked about families being the most important thing in Islam and the need for parents to work to keep their families strong, the paper said.

Friends offered heartfelt recollections of the well-liked students who excelled in athletics and academics.