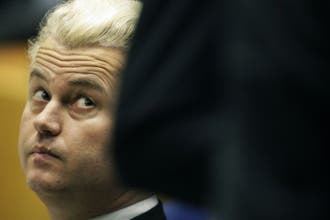 Dutch Muslims call for calm over anti-Islam film
Open mosque doors, don't be manipulated, group says
Dutch Islamic organizations on Thursday urged Muslims not to be "manipulated" and to react with calm and "intelligence" to an anti-Islam film to be made by far-right deputy Geert Wilders.

"We call on all of the Netherlands' Muslims and all citizens who feel insulted by the content of the film to show that they can deal with the blow and that they won't be manipulated," said Mohammed Rabbae, head of the coordinating body for Moroccan and Muslim associations in the Netherlands.

Plans by Wilders -- whose Freedom party holds nine seats in parliament -- to make a film that contends that the Quran is "an inspiration for murder" has caused unease in the Netherlands.
Prime Minister Jan Peter Balkenende has said the Netherlands is ready to act quickly if the film causes unrest, and stressed that "provocations" have no place in the Dutch tradition of tolerance.

Rabbae said: "We are in favor of a peaceful approach ... and we have called for as many mosques as possible to open their doors on the day the film will be shown so that everybody in a neighborhood, be it immigrants or Dutch people ... can come to talk and show solidarity."

"Our plan will have succeeded when Wilders feels frustrated because there were no riots or uproar because the Muslims will have shown they are more intelligent and democratic than he thinks."

On behalf of more than 200 Muslim and Moroccan organizations, Rabbae also called on people who felt offended by the content of the film when it is shown to file a legal complaint for discrimination and incitement to hatred.

Apart from saying that the film will show the Quran is a "fascist text" that incites people to murder, Wilders does not want to say what can be seen in the short movie or when it will come out.

Initially, he said it would be out late January, but this week he said it could be released in the next weeks.

Rabbae said his Landelijk Beraad Marokkanen (LBM) said it had contacted embassies of the Muslim countries in the Netherlands as well as the Organization of the Islamic Conference "to call on them not to boycott Dutch products".