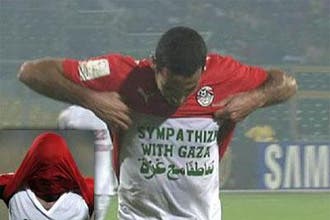 Egypt midfielder warned over Gaza slogan
Aboutreika booked for 'Sympathize with Gaza'
Egypt's Mohamed Aboutreika has been warned by the Confederation of African Football (CAF) for displaying a slogan in support of Gaza at the African Nations Cup finals in Ghana.

Aboutreika lifted his strip to reveal a tee-shirt with the slogan 'Sympathize with Gaza' as he celebrated scoring in the 3-0 win over Sudan in Friday's Group C match in Kumasi.

The midfielder was booked for his actions.
CAF officials said Aboutreika had been warned after the incident for breaching regulations by displaying political slogans, although his statement appeared to be more humanitarian than political.

Aboutreika's action came on the same day as clashes between Palestinian residents, seeking to break the blockade of Gaza, and Egyptian police.

The incident was reminiscent of the 2006 diplomatic bust-up after a Ghanaian player triumphantly raised the Israeli flag to celebrate a World Cup victory.

Defender John Paintsil, who played with Israel's Hapoel Tel Aviv club, pulled an Israeli flag from his sock and waved it for cameras after Ghana's 2-0 win over Czech Republic, provoking anger from Arab states.

Paintsil was never reprimanded.

He defended his actions by saying he just wanted to thank Israeli soccer fans for their support.

Ghana's Football Association apologized for his conduct and the Arab League said it had received an official apology from Ghana over the incident.

The official policy of FIFA - the International Football Association - prohibits discriminatory acts - be it against race, religion or politics.