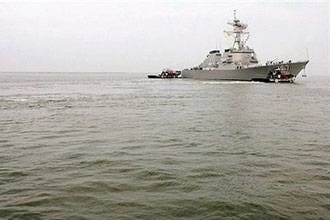 US positions warship off Lebanon coast
Move signals impatience with Syria
Deeply concerned about the political strife there and signaling impatience with Syria, the United States is sending at least three ships, including its assault USS Cole warship, to the Lebanese coast, in what officials described as a move aimed at bolstering regional stability.

It is "a show of support for regional stability" because of "concern about the situation in Lebanon," a U.S. official told AFP.

The top official, speaking on condition of anonymity, confirmed the deployment of the guided-missile destroyer off the coast of Lebanon but declined to say that the show of force was meant for Syria or Iran, which Washington considers foes of Lebanese democracy.
Chairman of the Joint Chiefs of Staff, Michael Mullen, declined to pin the warship's presence to Lebanon's presidential vote, which on Tuesday was postponed until March 11 for the 15th time since September.

"To say it is absolutely tied would be incorrect although certainly we are aware elections are due there at some point in time," Mullen said.

"The presence is important, it isn't meant to send any stronger signals than that, but in fact it does signal that we are engaged," he said.

The signal "is not specifically sent to any one country as much as it is to the region itself," he said, adding: "That's a very important part of the world and stability there is an important outcome for us."

A Pentagon spokeswoman said that the USS Cole was currently in the eastern Mediterranean, but gave no further details on its location.

Asked whether US President George W. Bush had given the order, White House spokesman Gordon Johndroe said: "The president is concerned about the situation in Lebanon and discusses the issue regularly with his national security team."

The USS Cole was attacked off the coast of Yemen in October 2000 by al-Qaeda militants. Seventeen U.S. sailors were killed.

A couple of U.S. Navy tankers were also in the area, another U.S. official told Reuters. "The point would be to encourage stability during a potentially critical period," the defense official said.

Lebanon's presidential vacuum has entered its fourth month with no resolution in sight, fueling fears that a deepening sectarian rift could stoke civil strife.

Arab leaders have stepped up efforts to bridge the divide between the Western-backed ruling coalition and the opposition supported by Syria and Iran, but analysts said they do not hold out much hope of a deal ahead of an Arab summit next month.