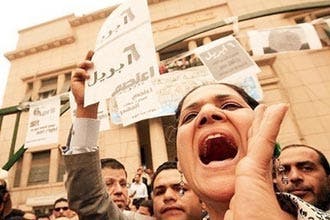 Egypt frees girl held for Facebook protest group
Another Facebook groups calls for May 4 strike
Egypt on Wednesday freed a woman detained earlier this month for forming a group on the Facebook social networking site that called for protests over price hikes, a security official said.

Interior Minister Habib al-Adli ordred Esra Abdel Fattah's release after her mother appealed directly to President Hosni Mubarak for her to be freed, the official said.

Fattah was among several bloggers arrested ahead of what was supposed to be a nationwide protest on April 6. Her Facebook group had 64,000 members but observation of the day of protest around the country was sporadic.
Instead, protests focused on the Nile Delta city of Mahalla, where three people were killed by police after clashes erupted when demonstrators pulled down posters of Mubarak.

On Tuesday, Fattah's mother published an appeal in the Egyptian press calling for her daughter to be freed "from the heart of Esra's mother to Mubarak's heart, to that of (his wife) Suzanne and of Habib al-Adli."

Another Facebook group has since been set up calling for a nationwide day of protest at price hikes on May 4, Mubarak's 80th birthday.