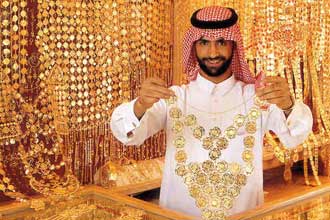 Gulf women opt for lower priced 18-carat gold
Prices and fashions don't favor 22-carat jewelry
Gulf Arab buyers, hit by rising prices, are shunning 22-carat gold in favor of lower quality grades of the metal for jewelry, traders said on Monday.

Gulf Arab women, traditionally vigorous buyers of high quality, glitzy heavy jewelry, are shifting to 18 carat alloy, used often in western designer pieces.

"Many of the women here are not keeping the gold for (a) long time," a Dubai trader said. "They just want something that looks valuable and nice to wear, and because of high prices they prefer lower quality gold as it is more affordable."
Italian-made 18 carat gold, known as the K-gold, is popular in the Gulf because it is offered in contemporary designs and a variety of colors such as white, red and yellow.

"The relatively lower-quality gold is easier to shape and allows manufacturers to experiment with different designs and shapes that women like," one Saudi manufacturer said.

"People want to buy something they can wear everyday and looks elegant ... not just for a special occasion," he said.

The popularity of 18-carat jewelry is also growing in the region as young people try to break away from the older generations' traditions and use affordable jewelry as a fashion accessory.

"If I want to buy gold, I would go for something unusual and fashionable," said Sarah Mahmoud, a 26-year-old Bahraini engineer. "Otherwise I could have already gone for the pieces my mother still keeps."

Gold rose to $891.40 an ounce on Monday, from $886.90 an ounce late in New York on Friday. But it has lost more than 13 percent in value since spiking to a lifetime high of $1,030.80 an ounce on March 17 and has been struggling to regain $900 an ounce.

"Some people think gold is cheaper here compared to the rest of the world, but when they actually get in the shops and ask about prices, they become reluctant to buy," said Pradeep Unni, assistant vice president of Vision Commodities Services.

"Many are now buying 18 or 14 carat gold lighter jewelry pieces ... and sometimes the younger generation would go for gold-plated jewelry," he said.

According to the industry-funded World Gold Council, gold demand in the Gulf Cooperation Council (GCC), stands at about 260 tons a year.

Last year, GCC demand rose by about 20 percent as the economies of the world's largest oil exporting region expanded, WGC said.