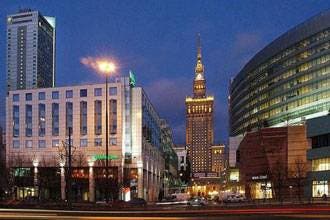 Kuwait envoy's son behind Jewish abduction
Polish police say he confessed to hotel hostage taking
The son of the Kuwaiti ambassador has been charged with briefly abducting three Jewish teenagers at a hotel and claiming he had a bomb, press reports said Tuesday.

The 23-year-old son of Ambassador Khaled Al-Shaibani, identified only as Mohammad A., was charged with holding the teenagers against their will, Warsaw police spokesman Anna Kedzierzowska told AP.

Al-Shibani was too intoxicated to undergo questioning on Monday, but he spoke with authorities and confessed on Tuesday morning, police said.
He faces a suspended sentence of 10 months to three years. He will be released pending his court hearing, which has not yet been scheduled.

The Kuwaiti Embassy confirmed the suspect was the ambassador's son, but declined further comment.

Police on Monday stormed the room in the Warsaw Holiday Inn to free the three Brazilian Jews, who were taking part in a Holocaust memorial event.

Al-Shibani had said he had explosives, but none were found in the operation. The hotel was evacuated and searched.