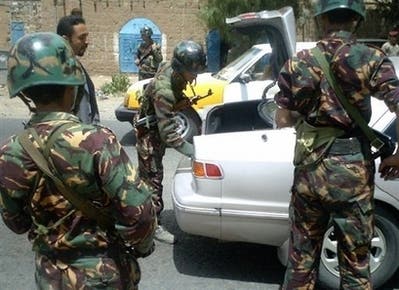 Qaeda warns non-Muslims in Arabian Peninsula
Tourists and journalists possible targets
A Yemeni wing of al-Qaeda threatened attacks on Thursday across the Arabian Peninsula against non-Muslim foreigners including tourists and journalists.

"We warn you not to enter the Arabian Peninsula under any name or cover be it as tourists, diplomats, scientists, experts or journalists; you will be a primary target for the mujahideen," al-Qaeda in the South of the Arabian Peninsula said in the editorial of its e-magazine.

"We stand absolved from (the rights) of any infidel who has entered the Arabian Peninsula. (Targeting) their blood and money are religiously right," it said in reference to non-Muslim foreigners, whom al-Qaeda calls infidels.
Al-Qaeda-linked militants in neighboring Saudi Arabia have waged attacks on Western targets but appear to have been weakened due to a security crackdown.

Yemen has seen a surge in small attacks on government buildings and foreign embassies in recent weeks.

In April, an al Qaeda-linked group said it fired three mortar rounds at a complex housing Americans and other Westerners in Sanaa. No one was hurt.

The attack was aimed at expelling infidels from the Arabian Peninsula, home to Islam's holiest sites, it said.

In March, a school near the U.S. embassy was hit by mortars injuring 13 girls and five Yemeni soldiers in an attack Washington said was aimed at its mission.

Al-Qaeda in the South of the Arabian Peninsula said it would not uphold any treaties between the government of Yemeni President Ali Abdullah Saleh and any other country.

In April 2004, bin Laden offered Europeans a truce if they withdrew troops from Muslim nations.

The group also warned Yemenis who host, protect or accompany "infidels" that they would face the same fate and said members of government forces would also be targets if they prevented its militants from fighting "combatant crusaders and apostates".

The magazine's cover carried a picture of U.S. destroyer Cole, the target of a suicide bombing on the Yemeni port of Aden in 2000 in which 17 U.S. sailors were killed.

Yemen, which joined the U.S.-led war on terror after the Sept. 11, 2001, attacks on U.S. cities, is seen in the West as a haven for Islamist militants accused of involvement in attacks on Western targets and clashes with authorities.