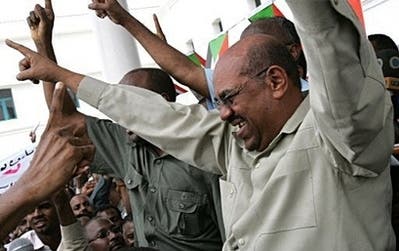 ICC prosecutor seeks arrest of Sudan's Bashir
Arab and African leaders warn of consequences
The International Criminal Court's (ICC) prosecutor charged Sudan's president on Monday with masterminding a campaign of genocide in Darfur, killing 35,000 people and using rape as a weapon of war.

ICC Prosecutor Luis Moreno-Ocampo asked the court for an arrest warrant for President Omar Hassan al-Bashir, the first sitting head of state to be pursued by an international court since Liberia's Charles Taylor and before that Yugoslavia's Slobodan Milosevic.

Moreno-Ocampo said 35,000 people had been killed outright in attacks by Sudan's armed forces and the Janjaweed militia they support, while 2.5 million others were subject to a campaign of "rape, hunger and fear" in refugee camps.

"Bashir is executing this genocide without gas chambers, without bullets, without machetes. It is a genocide by attrition," Moreno-Ocampo told a news conference.

"Prosecution evidence shows that Bashir masterminded and implemented a plan to destroy in substantial part the Fur, Masalit and Zaghawa groups on account of their ethnicity."
Arab reaction
Khartoum, which is not a party to the court, said it did not recognize the statement, but pledged to continue with peace moves in Darfur and said it would protect United Nations staff in Africa's largest country.

An Arab League official said Arab foreign ministers will hold an emergency meeting on Saturday to discuss genocide charges against Sudan's president.

"The meeting will be held on Saturday," Ambassador Samir Hosni, head of the Arab-African cooperation department at the Arab League, told Reuters on Monday.

The African Union (AU) and Organization of the Islamic Conference (OIC) have also raised concern.

The AU said it would hold crisis talks on Sudan, while the IOC warned of "grave ramifications".

And as Darfur rebel groups welcomed the news, China's U.N. ambassador said plans to issue a warrant for Bashir would put peace prospects "in jeopardy".

The new Darfur case could embarrass China -- Khartoum's biggest arms supplier and a major investor in its oil industry -- just weeks before the start of the Beijing Olympics. China declined to comment on the charges.

Fearing an upsurge in violence from an enraged Bashir and emboldened rebels in Darfur, aid organizations had tightened security in Sudan in recent days.

Sudan looks set to seek Chinese, Russian and African support at the United Nations to help block any warrant.

Darfur is home to the world's largest humanitarian operation and officials have also expressed concern an indictment could further stall the deployment of a U.N.-funded peacekeeping operation.

However rights group Human Rights Watch (HRW) welcomed the prosecutor's action as a step towards ending impunity.

Thousands of protesters chanted anti-American slogans as they rallied in Khartoum on Sunday to protest against a potential arrest warrant, which Sudanese Justice Minister Abdel Basit Sabderat told the crowd would ignite his country.

"This indictment may well shut off the last remaining hope for a peaceful settlement for the country," said Andrew Natsios, former U.S. special envoy for Sudan.
ICC
The ICC was set up in 2002 as the world's first permanent war crimes court. As well as Darfur, it is investigating Uganda, Central African Republic and the Democratic Republic of Congo but has no police force and only has four suspects in custody.

The Sudan case comes at a difficult time for the fledgling court after judges threw its first trial into doubt amid concerns a Congolese militia leader could be denied a fair trial as the prosecution had withheld evidence from the defense.

ICC judges issued arrest warrants for two Sudanese suspects last year -- government minister Ahmed Haroun and militia commander Ali Kushayb. Khartoum refuses to hand them over.

International experts say at least 200,000 people have died in Darfur and 2.5 million have been displaced since a rebellion erupted in 2003. Khartoum says 10,000 people have been killed.

U.N. Secretary-General Ban Ki-moon spoke to Bashir on Saturday and stressed the independence of the ICC but also the need to manage the situation on the ground, expressing concern about any impact on the deployment of U.N. peacekeepers.

Sudan's main rebel groups, who have also been accused of rights abuses, have said any ICC arrest warrant for Bashir would be a triumph for justice, and pledged to hand over their own commanders if sought by the court.

Judges will probably take several weeks or months to rule on the likely application for new arrest warrants.

Sudan's allies could press the U.N. Security Council, which referred the situation in Darfur to the ICC for investigation in 2005, to pass a resolution suspending a warrant or inquiry for a year, although Western powers would be unlikely to support that.