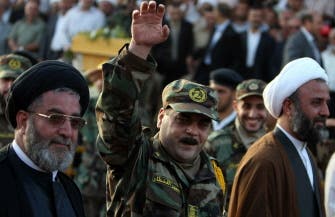 Lebanon rolls out red carpet for freed fighters
Cabinet declares the day a public holiday
Five Lebanese prisoners arrived to a triumphant red carpet welcome in Lebanon on Wednesday after being freed by Israel in a prisoner swap after years behind bars.

The five -- convicted murderer Samir Kuntar and Hezbollah fighters Khaled Zidan, Maher Kurani, Mohammed Sarur and Hussein Suleiman -- were given a heroes' welcome when set foot on Lebanese soil late afternoon at the Naqura border crossing between Lebanon and Israel.

The men changed out of their grey sweatshirts and into Hezbollah military uniforms before marching down the red carpet behind Hezbollah soldiers carrying the yellow flag of the militant group and the Lebanese and Palestinian flags.
Kuntar, who was serving five life sentences for a 1979 triple murder, waved at applauding crowds as he and his comrades walked toward the stage under a shower of confetti.

Lebanon's cabinet declared Wednesday a public holiday for the exchange, in which Hezbollah turned over the remains of Israeli soldiers Ehud Goldwasser and Eldad Regev in return for the five men and remains of 199 Lebanese and Palestinian fighters.

The two soldiers were captured in a July 12, 2006 cross-border raid that sparked a devastating 34-day war between Hezbollah and Israel. More than 1,200 Lebanese, mostly civilians, and over 160 Israelis, mostly soldiers, died in the war.

The liberated prisoners were late Wednesday to be flown by Lebanese army helicopter to Beirut where they would be greeted by President Michel Suleiman, Prime Minister Fouad Siniora and parliament speaker Nabih Berri.

Families of the prisoners waiting at the airport cheered and applauded at the news that the men had arrived on Lebanese soil.

Kuntar's mother was shown on television embracing the freed man's brother and crying tears of joy as she awaited him.

Hezbollah is planning a large celebration in its stronghold in the southern suburbs of Beirut, where Nasrallah was to deliver a speech late Wednesday.

The bodies of 199 Palestinian and Lebanese fighters, some of them members of Hezbollah, will be taken to Beirut in a convoy on Thursday where some will be buried in the Martyrs Cemetery.