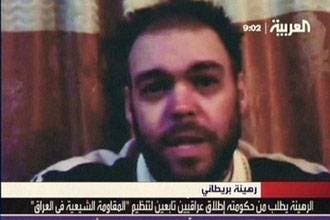 British hostage in Iraq killed himself: kidnappers
Says hostage was depressed, blames govt for procrastinating
A Shiite militia that has claimed responsibility for the kidnapping of five Britons in Iraq more than a year ago said one of its hostages committed suicide, according to a British newspaper report on Sunday.

Prime Minister Gordon Brown, who paid a surprise visit to British troops in Iraq Saturday, described the reports as "distressing" and called for the hostages' immediate and unconditional release.

A Foreign Office spokeswoman said the ministry had no "independent verification of the claims in this video" and added that she could not comment on its accuracy.
The group calling itself the Shiite Islamic Resistance in Iraq begins a video statement released to The Sunday Times with the photo of a man, identified as Jason, appearing alongside the Arabic text of the statement.

According to the English translation provided by the paper, it claims that the hostages had slipped into depression and made "more than one attempt at suicide."

It goes on to say that Jason committed suicide on May 25, 2008, blaming the "procrastination, and foot-dragging, and lack of seriousness on the part of the British government."

The Sunday Times said the video was handed to one of the newspaper's representatives by an intermediary, who said that proof of the victim's death would only be provided if the British government agreed to negotiate.

The video, entitled "Intihar", Arabic for suicide, called for the release of nine prisoners being held in Basra in return for the freedom of the hostages.

It then showed video footage of a second man, named by The Sunday Times only as Alan, who said on camera that while he had been treated "very good, to say the least", he was "not doing well" physically and added: "Psychologically, I'm doing a lot worse."

He called on the British government to "please hurry" and "get this resolved as soon as possible."

In a statement released by his Downing Street office, Brown, who is now in Tel Aviv on a tour of Israel and the West Bank, said: "Clearly this is a very distressing development. We are taking this very seriously."

"There are many people working behind the scenes trying to find a solution. I raised the case of these men with (Iraqi) Prime Minister (Nouri al-)Maliki. We both share a desire to see them returned safely to their families. I call on those holding the hostages to release them immediately and unconditionally."

While in Iraq, Brown said London wanted to cut the number of Britain's troops in Iraq but ruled out any "artificial timetable" for their withdrawal.