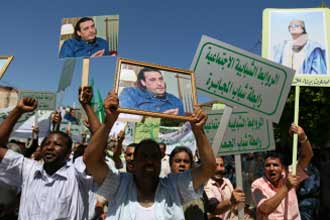 Swiss president "seriously worried" by Libya row
Says he is ready to meet Gaddafi over son's arrest
Swiss President Pascal Couchepin has said he is ready to meet Libyan leader Muammer Gaddafi in a bid to ease bilateral tensions after Gaddafi's son was arrested in a Geneva hotel.

Libya on Thursday said it would halt fuel supplies to its key oil customer Switzerland over the arrest of Hannibal Gaddafi , 32, and his wife in a Geneva hotel last week for allegedly assaulting members of their staff.

Both have been freed on bail.

Two Swiss nationals have also been detained in Libya on alleged immigration offences. The Swiss foreign ministry has described the arrests as "dubious".

Couchepin told Swiss daily Blick, in an interview that appeared on Saturday, that he was "seriously worried" by the row.
"As president, I will do whatever can be useful for our country," he said when asked if he would be willing to meet Gaddafi.

"So, why not have a discussion with the leader of another country, even a country with which we currently have tensions."

On Wednesday the Swiss foreign ministry said Libya has been retaliating since July 17, when the younger Gaddafi was freed on bail.

Libya's envoy in Switzerland has been recalled and Libya has suspended issuing visas to Swiss citizens, the ministry said.

Air links between Switzerland and Libya have been reduced and Swiss businesses in Libya have received closure orders, it added.

Libya also shut the local offices of Swiss food group Nestle and engineering firm ABB and detained officials of both.