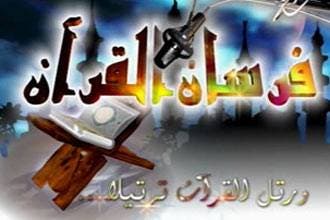 Algeria launches Islamic version of Star Academy
'Knight of the Quran' to be revealed on last day of Ramadan
Algerian TV will launch an Islamic adaptation of the Arab talent show Star Academy, with competitors vying for recognition as the world's top Quran reciter, AlArabiya.net has learned.

The new show, a collaboration between Algerian TV and the Ministry of Religious Affairs, is part of a plan to implement more balance in Algerian TV programming.

Star Academy, the Arab world's equivalent to shows like American Idol, is one of the most-watched programs in Arab television history, but was banned in Algeria because of excessive "nudity."

Sixteen contestants were chosen for the new show from 15,000 applicants, including reciters from Egypt, Tunisia, Morocco, Turkey, and Indonesia.
Knight of Quran
A member of the jury, who spoke on condition of anonymity, told AlArabiya.net that most of the participants do not have formal recitation training, demonstrating "how deep the Quran recital tradition is in the Algerian society."

The best Quran reciter will be named "Knight of the Quran" and will be announced on the last day of Ramadan. Throughout the show, the competitors will recite verses from the Quran and the audience will vote for who they think is best.

The 16 finalists were rewarded for their efforts with visits to the most important Islamic sites for Quran recital, including Al-Karaouine mosque in Morocco, Kairouan mosque in Tunisia, and Al-Azhar Mosque in Egypt.

Star Academy has been extremely popular with Arab audiences since it began in 2003. Now entering its fifth season, the program airs on the Lebanese channel LBC and features participants from all over the Arab world who compete in singing competitions.
Cultural sensitivity
The idea of a Quran recitation competition is not new for Arab television. Hezbollah's satellite station Al Manar has a children's program where youth compete in Quranic recitation.

"It's a manifestation of how the medium and the program format can be hybridized," Adel Iskander, visiting scholar at Georgetown University and expert on Arab media, told AlArabiya.net.

He said the new program will likely be similar to existing programs that seek to preserve cultural and Islamic identity. For instance, Iskander said Abu Dhabi's poetry competition, Prince of Poets, aims to foster an interest in classical poetry among young contestants.

"Scriptural content is making its way into different types of programming," said Iskander, adding that there is a resurgence of Islamic pop culture in general.


(Translated from Arabic by Sonia Farid)