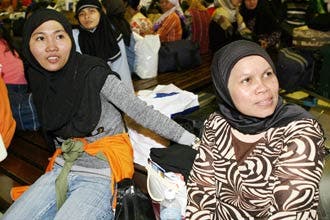 Maids in Lebanon die every week: HRW
Calls to probe the causes of death
Lebanon must improve working conditions for migrant domestic workers, who often commit suicide or die while trying to escape from their employers, a U.S.-based rights group said on Tuesday.

Human Rights Watch said there were an estimated 200,000 such workers in Lebanon, including those with illegal status, mostly from Sri Lanka, the Philippines and Ethiopia.

Out of about 95 foreign housemaids who died in Lebanon since Jan. 2007, 40 deaths were classified by their embassies as suicides and 24 as workers falling from high buildings, often trying to escape their employers, it said in a statement.

"Domestic workers are dying in Lebanon at a rate of more than one per week," said Nadim Houry, senior researcher at Human Rights Watch.
"All those involved -- from the Lebanese authorities to the workers' embassies, to the employment agencies, to the employers -- need to ask themselves what is driving these women to kill themselves or risk their lives trying to escape from high buildings."

The rights group called on a committee created in 2006 to improve workers' conditions, to investigate the causes of these deaths and develop a concrete national strategy to reduce them.

The Labor Ministry, which leads the committee, was not immediately available for comment.

The rights group said interviews with embassy officials and friends of domestic workers who committed suicide suggested that "forced confinement, excessive work demands, employer abuse and financial pressures are key factors pushing these women to kill themselves or risk their lives".

According to Human Rights Watch, Lebanese labor laws specifically exclude domestic workers from rights guaranteed to other workers, such as a weekly day of rest, work hour limits, paid holidays and compensation.

"While the Lebanese authorities cannot guarantee these women happiness, they should guarantee them the right to move freely, to work in decent conditions, to communicate with their friends and family, and to earn a living wage," it said.