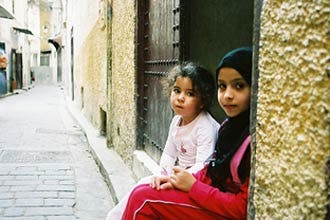 Morocco slams cleric for 'legalizing pedophilia'
Cleric's schools, website shut down amid outrage
Authorities in Morocco have shut down around 60 Quranic schools belonging to a Muslim cleric who argues that girls as young as nine can marry, officials said Thursday.

The authorities also plan to close down the Internet site on which Sheikh Mohamed Ben Abderrahman al-Maghraoui decreed earlier this month that the marriage of nine-year-old girls is allowed by Islam.
The sheikh said his decree was based on the fact that the Prophet Mohammed consummated his marriage to his wife Aisha when she was that age.

Lawyers, the media, and finally Muslim scholars rounded on Maghraoui for effectively seeking to legalize pedophilia.

The authorities finally took action on Wednesday, shutting down his headquarters in Marrakesh and dozens of his small Quranic schools dotted around the country.

"The Internet site 'Maghrawi.net' is going to be closed, while the headquarters of the Mohamed Maghraoui association in Marrakesh and his 'Quranic Houses' have already been closed," a security official told AFP.

Sheikh Maghraoui's 'fatwa' or religious decree was condemned on Sunday by Morocco's top body of Islamic scholars.

The High Council of Ulemas, which is presided over by Morocco's King Mohammed VI, labeled the sheikh an "agitator" and denounced his "utilization of religion to legitimize the marriage of nine-year-old girls."

Rabat-based lawyer Mourad Bekkouri filed a complaint against Maghraoui and his fatwa earlier this month in which he said the decree damaged children's rights by increasing the risk of rape.

He told AFP the cleric is undermining Islam and its followers and that he had requested the state prosecutor to speed up the case.