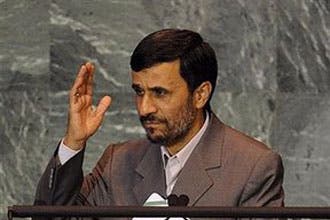 Iran offers joint nuclear plants with Gulf states
Suggests a nations group to develop light-water plants
Iran on Sunday proposed developing nuclear power plants jointly with neighboring Arab states in the Gulf, amid international pressure on Tehran to halt its sensitive atomic work.

"I suggest that countries in the region put on their agenda the creation of a consortium to build and develop light-water nuclear plants," said Gholam Reza Aghazadeh, the head of Iran's atomic energy organization.
"Iran is ready to present a comprehensive proposal if the Persian Gulf countries agree to it in principal," he told an energy conference in Tehran.

However, he did not give any specifics about the proposal, or its feasibility.

Iran has rejected international calls to halt uranium enrichment, which it claims is for peaceful purposes, and is under sanctions targeting individuals and institutions involved in its nuclear program.

The light-water reactor market is dominated by Western countries and Russia, which is currently building Iran's first nuclear power plant in the southern city of Bushehr on the Gulf.
Home-built plant
Officials say Iran's first home-built nuclear plant using domestic technology is at the basic design stage and is scheduled to come on line in around nine years.

The Islamic republic is also building a 40-megawatt heavy water research reactor in Arak, in central Iran.

Uranium enrichment lies at the center of fears about Iran's nuclear program as the process can be used to make the fissile core of an atom bomb.

Iran, OPEC's second largest oil exporter, insists it only wants to enrich uranium to make nuclear fuel to meet the growing energy demands of its population.

Tehran has not responded to a proposal by world powers offering Iran incentives including help with peaceful nuclear technology and a light water reactor in return for suspending enrichment.

Iran and the Gulf states have an amicable but sometimes turbulent history and disagree over the name of the gulf that runs between them; Iran names the water the Persian Gulf as opposed to the Arabian Gulf.

The United Arab Emirates and Iran are at loggerheads over three Gulf islands, which the UAE says are occupied by Iran. But despite the islands dispute the two states have close ties and Iran is the UAE's top trading partner.