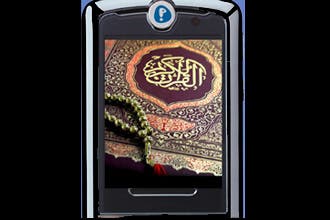 Israel offers Quran texting service
Users can dowload verses and chapters on-demand
An Israeli mobile phone company has begun offering a mobile phone version of the Quran just in time for the annual Muslim pilgrimage to Mecca, known as the hajj, in a move it hopes will help it gain access to an untapped market, Arab Muslims.

The Quran text service offered by Pelephone lets subscribers download Quranic suras, or verses, and scroll through the onscreen book for just $1.50 per month, according to a report by the U.S.-based Fox News.

"We are providing something to subscribers who want to be connected to these texts any time and any place," Pelephone's Product Content Director Moti Cohen was quoted as saying. "So naturally we are targeting a population that would use this type of service. Our Arab sector customers are very enthusiastic."
The Arab market comprises about 15 percent of Pelephone, Israel's first cellular company, business. And with a mobile penetration rate of about 35 percent among Palestinians, according to the Arab Advisors Group, there is room for growth in the Arab market.

"The Arab sector is pretty adherent and many work outside the house and pray five times a day," Cohen said. "So we expect a high percentage of our Arab customers to opt for this feature."

"This was a natural move for us," he said. "We offer services to Israel's entire population — Arab and Jew — and the Arab sector makes up about 15 percent of our client base. In this market almost every person has a mobile phone. Why wouldn't we offer something like this when the Bible service has been so popular?"

Last year the company launched an Old Testament "Bible Service" targeting Jewish mobile subscribers. Other companies like AT&T in the United States offer similar religious text-on-demand applications.
The Arab sector is pretty adherent and many work outside the house and pray five times a day

Moti Cohen, Pelephone