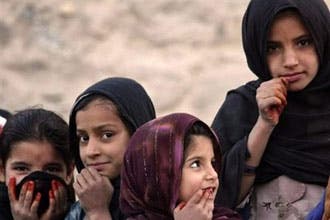 Taliban threaten to kill schoolgirls: officials
Say ban applies on Swat residents on Jan. 15
Taliban leaders in Pakistan's troubled northwest Swat valley have banned girls from attending school, threatening to kill any female student, officials said Thursday.

The threat was delivered this week by local Taliban commander Shah Durran in an address carried on an illegally-run radio station in the area, local officials told AFP.

"You have until Jan. 15 to stop sending your girls to schools. If you do not pay any heed to this warning, we will kill such girls," one official quoted the commander as saying.

"We also warn schools not to enroll any female students; otherwise, their buildings will be blown up."
The mountainous Swat valley was until last year a popular tourist destination featuring Pakistan's only ski resort.

But the region has been turned into a battleground since radical cleric Maulana Fazlullah, who has links to Pakistan's Taliban movement, launched a violent campaign for the introduction of Islamist Sharia law in the valley.

Durran said local Taliban leaders were determined not to allow girls to attend school, saying: "We want to enforce the true Sharia in the area -- for this, we are fighting and laying down our lives."

Swat residents said Taliban fighters had already destroyed scores of government-run schools, leading some to set up private schools in their homes to educate girls.

An official at the Pakistani education ministry said there are about 1,580 schools registered in Swat -- once known for its top-flight schools.

"Already Taliban militants have destroyed 252 schools, mainly those where girls and boys were studying together," official Naeem Khan said.

Education has suffered badly in Swat as a result of the ongoing fighting between Taliban-linked militants and security forces, with only a handful of schools still open in the region's main city Mingora, Khan said.

The government had reached a deal with the rebels in May to gradually pull out troops and introduce an Islamic justice system in exchange for an end to rebel attacks, but the violence eventually resumed.
Already Taliban militants have destroyed 252 schools, mainly those where girls and boys were studying together,

Education ministry official Naeem Khan