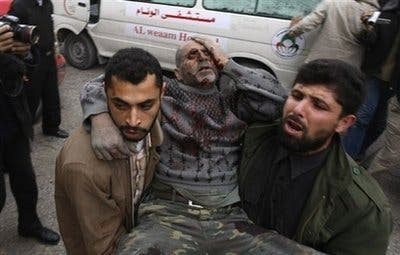 At least 205 killed as Israel pounds Gaza
Highest one-day death toll in 60 years of conflict
Israeli warplanes and helicopters pounded the Hamas-ruled Gaza Strip on Saturday, killing at least 205 people in the bloodiest one-day death toll in 60 years of conflict with the Palestinians.

More than 700 Palestinians were wounded in all, medics said.

Militants in the Gaza Strip, who have launched dozens of rocket attacks against Israel since a truce expired just over a week ago, fired more salvoes that killed one Israeli man and wounded several others.

Both sides said they were ready to stage wider assaults, threatening to plunge the region into a crisis that could leave stalled talks over Palestinian statehood in tatters.
Israel said the operation, dubbed "Solid Lead", targeted "terrorist infrastructure" following days of rocket attacks on southern Israel that caused damage but few injuries. An army spokeswoman said Hamas leaders could be targeted.

The army did not set a timeframe but the mayor of Ashkelon, an Israeli city in range of Hamas's rockets, said military planners saw the operation lasting "more than a week".

Foreign Minister Tzipi Livni, a leading candidate to become Israel's next prime minister, called for international support against "an extremist Islamist organization ... that is being supported by Iran", Israel's arch-foe.

In line with the Jewish state, the administration of U.S. President George W. Bush, in its final weeks in office, appeared to put the onus on Hamas to prevent a further escalation.
Reactions
"Hamas' continued rocket attacks into Israel must cease if the violence is to stop," White House spokesman Gordon Johndroe said in a statement that urged Israel to avoid civilian casualties but stopped short of calling for an end to the Israeli air strikes.

Secretary of State Condoleezza Rice blamed Hamas for breaking the cease-fire with Israel.

"The United States strongly condemns the repeated rocket and mortar attacks against Israel and holds Hamas responsible for breaking the cease-fire and for the renewal of violence in Gaza," Rice said in a statement.

The United Nations and the European Union, in contrast, called for an immediate halt to all violence.

Middle East envoy Tony Blair deplored the "tragic of loss of life," and called for an end to rocket attacks from Gaza and Israel's air strikes.

Palestinian President Mahmoud Abbas said the Israeli air campaign was "criminal" and urged world powers to intervene.

Egypt said it would keep trying to restore the truce between Israel and Gaza.

Aid groups said they feared the Israeli operation could fuel a humanitarian crisis in the impoverished coastal enclave, home to 1.5 million Palestinians, half of them dependent on food aid.

The campaign followed a decision by Israeli Prime Minister Ehud Olmert's security cabinet to widen reprisals for cross-border Palestinian rocket attacks following the collapse of a six-month-old, Egyptian-brokered ceasefire a week ago.
The United States strongly condemns the repeated rocket and mortar attacks against Israel and holds Hamas responsible for breaking the cease-fire and for the renewal of violence in Gaza

Secretary of State Condoleezza Rice
Hamas' response
Hamas threatened to unleash "hell" to avenge the dead, including possible suicide bombings inside Israel.

the group estimated that at least 100 members of its security forces had been killed, including police chief Tawfiq Jabber and the head of Hamas's security and protection unit, along with at least 15 women and some children.

It also said all of its security compounds in the Gaza Strip were destroyed or seriously damaged.

The leader of the Hamas government in the Gaza Strip vowed in a message to Palestinians that Gaza would never yield to Israel, whatever force it used against the territory.

"We will not leave our land, we will not raise white flags and we will not kneel except before God," Ismail Haniyeh said in a letter to the Palestinian people carried by a pro-Hamas website.