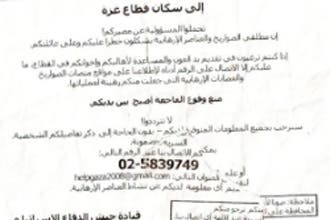 Gaza's babies, children, pregnant women at risk
Aid and human rights groups urge IDF to stop
A growing chorus of human rights and aid groups are condemning Israel's war on Gaza, with Save the Children warning Thursday that pregnant women and children suffer the brunt of the offensive.

Israeli human rights and aid groups criticized Israel Wednesday for war crimes in Gaza and warned that Gaza's health system is "in a state of total collapse."

In a collective statement addressed to the Israeli government and army, nine Israeli human rights and aid groups called the level of humanitarian deterioration "unprecedented," and accused the Israeli army of "making wanton use of lethal force which has to date caused the deaths of hundreds of uninvolved civilians."
The findings, based on witness testimony, listed numerous instances of shootings at medical teams, attacks on hospitals and U.N. facilities as well as the indiscriminate targeting of buildings.

"I think that we are witnessing a moral corrosion that is destroying everything at a fantastic rate," said Israeli human rights lawyer Michael Sfard, who represents Palestinian parties in Israeli courts, at a press conference. He added said that neither Israelis nor the army are as careful about human rights issues as they were in the past.
Pregnant women and babies endangered
Pregnant women, traumatized children and elders unable to move quickly make up the bulk of Palestinian victims as Israel's aerial and ground offensive continues in defiance of international condemnation, with the death toll surpassing 1,200.

Medical experts from Save the Children warned Thursday that the overall deterioration of the security situation in Gaza and the distressing humanitarian conditions endanger the lives of pregnant women.

A growing chorus of international and Israeli human rights and aid groups are condemning Israel's war on Gaza, with Save the Children warning Thursday that pregnant women and children suffer the brunt of the offensive

"This conflict is taking place in one of the most densely populated areas of the world, where every other person is a child," said Annie Foster, Save the Children's team leader for the Gaza emergency response. "Children bear the brunt of any conflict and this one is certainly no different.
Primary health care centers are open but have seen 90 percent reduction in visits, according to WHO reports.

Save the Children staff in Gaza said that pregnant women are unable to reach health facilities because of the constant shelling and end up giving birth at home because they cannot reach a health facility thereby risking their lives and their infants'.

"Babies in the first month of life face the greatest risk of dying among all children globally," said Annie Foster, Save the Children's team leader for the Gaza emergency.

In a statement issued Wednesday UNICEF said that children caught up in the Israeli offensive in Gaza were bearing the brunt of the crisis, with more than 400 killed in just 20 days, one third of the total death toll.

"Each day more children are being hurt, their small bodies wounded, their young lives shattered. This is tragic. This is unacceptable," said UNICEF executive director Ann Veneman.
Approximately 320,000 children in Gaza are under 5 years of age, including about 40,000 infants under six months, according to UNICEF.
Palestinians in Gaza have nowhere to go
As Israeli troops push deeper into densely populated places in Gaza, Palestinians find themselves at a loss for a safe place to hide.

"My family and I are hopping from place to place like nomads looking for one place without bombs or shells," 35-year-old Mazen Awad told AlArabiya.net. He was one of the few Gazans available vie phone due to lack of properly functioning phone networks, 85 percent of which have been down since the ground invasion began on Jan. 3.

"The Israelis drop leaflets on us that tell us to evacuate and 'be responsible for our destinies'. But to where? All Palestinians walk through a shower of bombs. Even the schools have been hit and ambulance drivers killed. There is no where safe in Gaza," Awad said.

The leaflets dropped also asked Gazans to inform Israeli authorities about the location of terrorists and rocket launching pads, something which Mazen says ridiculously mocks Gazans who are asked to aid an enemy that kills indiscriminately.

"There is really no other intent for the leaflets than to traumatize and mock people of Gaza. Soldiers don't even check their targets, this is why everything is being shot at and everybody is dying," he explained.
All Palestinians walk through a shower of bombs. Even the schools have been hit and ambulance drivers killed. There is no where safe in Gaza

Mazen Awad