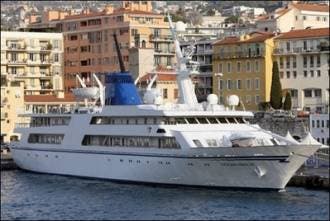 Iraq tows Saddam's luxury yacht from France
As no buyers opt for the Ocean Breeze
Iraq's government will tow the late dictator Saddam Hussein's yacht from France back to Iraq after the global economic crisis left the luxurious yacht without a buyer, a spokesman said Wednesday.

The Ocean Breeze, which was built in 1981, will be towed back to Iraq's southern port of Basra, government spokesman Ali al-Dabbagh said in a statement.
Iraq tried to fetch up to $30 million in France for the 270-foot pleasure boat, which features gold taps in its bathrooms, a mini-operating theater, a helicopter landing pad and a secret escape passageway, according to media reports.

Back in November of last year, those in the ship management business were certain the yacht would get lots of deals.

"There's always going to people who can afford to buy these sort of vessels," David Nunn, operations manager for Dubai's Yacht Master Ship Management, told AlArabiya.net on Nov. 6 2008.

"People are always into owning something by a personality whether it's a good boy or bad boy," he added. "It's sort of a celebrity thing."
No more buyers
Not any more. Dabbagh said the global credit crunch and ensuing economic turmoil had driven away potential buyers and sharply reduced the likely proceeds from the sale of the yacht to below what Iraq considered to be its real value.

Saddam, whose decades-long rule came to an end with the U.S.-led invasion of Iraq in 2003 and who was hung in 2006 for crimes against humanity, lived lavishly.

U.S. missiles and bombs destroyed another luxurious Saddam yacht, the Al Mansur, in southern Iraq in 2003, with the re-named Ocean Breeze likely escaping because it was never part of his personal fleet, having been moored in Saudi Arabia and France.

Dabbagh said the Iraqi finance ministry had been instructed to pay a sum amounting to two percent of Ocean Breeze's value to a lawyer handling the legal paperwork.
The ministry would also pay mooring fees and the charges of a Greek company that had been maintaining the yacht in Piraeus harbor since July.

The vessel would return to Iraq when the maintenance contract with the Greek company runs out at the end of January, his statement said.

The yacht was being returned to Iraq to avoid future lawsuits over mooring charges, he said.

Ocean Breeze had been the subject of legal wrangling with Jordan, which had claimed it as its own. Yet Iraq won a legal dispute over the ownership of the yacht in French courts last year.

While grand when it was built in 1981, the Ocean Breeze is puny compared with mega-yachts commissioned by a new wave of super-rich, including a 138-meter long yacht now owned by the Sheikh of Dubai -- after the Prince of Brunei ran out of funds -- which boasts 12 enormous suites, each with its own balcony.