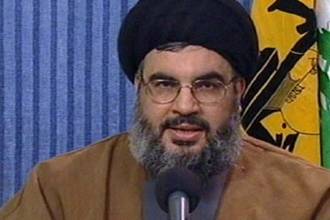 Egypt slams Hezbollah chief as "agent of Iran"
In response to Nasrallah's attack on Egypt over Gaza
Egypt on Friday accused Lebanon's Hezbollah leader Hassan Nasrallah of being an "agent of Iran," after his tirades against Cairo during Israel's military assault on the impoverished Palestinian territory.

"Hassan Nasrallah's criticism of Egypt confirms once more that he is nothing more than an agent of the Iranian regime and takes his orders from Tehran," it charged in a government statement.
On Thursday, Nasrallah, whose group is supported by Damascus and Tehran, slammed Egypt on the grounds it continues to keep its Rafah border post with Gaza closed while claiming to have opened it.

Rafah is the only land exit point from Gaza which does not lead into Israel.

Nasrallah accused Cairo of complicity in the Israeli blockade on Gaza and cast doubt on Egypt's neutrality in efforts to mediate a formal ceasefire.

More than 1,300 Palestinians were killed and more than 5,000 were wounded in Israel's 22-day massive assault on Gaza, launched on Dec. 27.

Egypt on Wednesday accused Iran, along with Hamas and Hezbollah, of using Gaza to provoke conflict in the Middle East.

"(They tried) to turn the region to confrontation in the interest of Iran, which is trying to use its cards to escape Western pressure ... on the nuclear file," Egypt's Foreign Minister Ahmed Abul Gheit said, referring to Iran, the Palestinian Islamist movement Hamas and the Lebanese Shiite group Hezbollah.