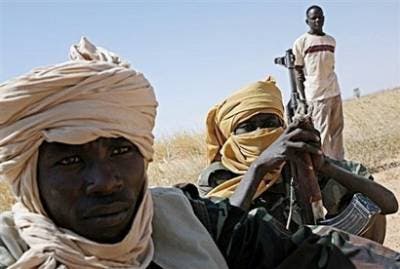 Sudan signs accord with Darfur rebels
Paves the way for talks to end six-year conflict
Sudan and Darfur's most active rebel group the Justice and Equality Movement signed an agreement on Tuesday paving the way for broader talks aimed at ending the six-year conflict in Darfur.

Sudan started talks with the Justice and Equality Movement, one of Darfur's main rebel groups, last week, almost six years into a conflict that international United Nation's experts say has killed 300,000 people and uprooted 2.2 million.

The declaration of intent was signed a day after the deal was announced between the rebel group and the Khartoum government by Qatar, which has been mediating the week of talks.
"There has been great progress... and we now have an agreement," Qatari Prime Minister Sheikh Hamad bin Jassem al-Thani told reporters on Monday.

The sponsors of the Doha talks -- Qatar, the United Nations, African Union and Arab League -- have stressed nevertheless that the talks are preliminary and intended to pave the way for a broader peace conference on Darfur.

"We hope to launch negotiations in two weeks on, among other things, a ceasefire and issues related to the exchange of prisoners," said Sheikh Hamad, who is also Qatar's foreign minister.

The most heavily armed of the Darfur rebel groups, the JEM boycotted a largely abortive peace deal signed by one other faction in 2006. In May last year, it launched an unprecedented assault on the Sudanese capital.

Sudan, whose President Omar al-Bashir is facing a possible international arrest warrant for alleged war crimes including genocide in Darfur, puts the death toll at only 10,000.
Prisoner swap
Details of Monday's accord were sketchy, but it includes a prisoner swap, officials said.

"The two sides have committed themselves in principle to an exchange of prisoners, to be freed in successive groups between now and the launch of talks on a framework agreement on peace in Darfur," JEM delegation member Tahar el-Fakih said on Monday, according to Qatar's QNA news agency.

Tuesday's accord followed a long meeting on Monday between the heads of the two delegations, JEM leader Khalil Ibrahim and Nafie Ali Nafie, an aide to Beshir.

The meeting was attended by Ahmed Ben Abdallah al-Mahmud, Qatari minister of state for foreign affairs, and Djibril Bassole, mediator for the United Nations and African Union taskforce in Darfur.

International Criminal Court judges are expected to rule within weeks on whether to issue a warrant for Bashir's arrest over allegations that he masterminded genocide in Darfur, where JEM and other rebels took up arms in 2003, demanding more representation for the region and improved infrastructure.

Khartoum mobilized mostly Arab militias to crush the revolt but denies U.S. accusations that this amounted to genocide.

Mohammed el-Mahadi Mandour el-Mahadi, head of the political affairs secretariat for Bashir's dominant National Congress Party, told Reuters the government would struggle in Qatar to find a resolution if an arrest warrant was issued.

He said JEM had felt emboldened to make increasingly unrealistic demands during the talks, and its leader had also promised to hunt down Bashir if an arrest warrant was issued.

Many Sudanese believe that formal charges against Beshir -- which would be the first ever issued against a sitting head of state -- would plunge the country into chaos.
The two sides have committed themselves in principle to an exchange of prisoners, to be freed in successive groups between now and the launch of talks on a framework agreement on peace in Darfur

JEM delegation member Tahar el-Fakih