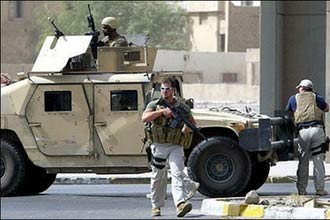 US Blackwater changes name after Iraq scandal
Named Xe after becoming known as a symbol of mercenaries
American security firm Blackwater announced it had officially changed its name, effective immediately, and shifted its focus on Tuesday, following a number of scandals including the murder of 17 Iraqi civilians in 2007.

Blackwater will now be known as Xe—pronounced zee—and will rebrand itself as a "one-stop shopping source for world class services in the fields of security, stability, aviation, training and logistics," a memo by company president Gary Jackson to employees read.
"We've been restructuring the company for some time and it is not accurately defined by what Blackwater was defined as," company spokesperson Anne Tyrell told Al Arabiya.

"We were defined as a security company, we never were a security company," said Turrell. "We offer a lot of other services. But Blackwater became synonymous with our security work."

Turrell said the name change would have no impact on the company's ability to operate in Iraq nor did it have any plans to reapply to work there.

"Blackwater's latest attempt at re-branding itself would be hilarious if the company's record wasn't so deadly," ABC News quoted Jeremy Scahill, author of 'Blackwater: The Rise of the World's Most Powerful Mercenary Army,' as saying.

"Blackwater's deadly record has clearly made the company an international symbol of the out of control violence of the Bush era in Iraq and the rise of modern-day mercenaries, so it is understandable why the company would try to change its name at this moment in history," he said.
We've been restructuring the company for some time and it is not accurately defined by what Blackwater was defined as

Company spokesperson--Anne Tyrell
Blackwater first came under the public spotlight in 2004, when four of its employees were killed by a mob in Fallujah, west of Baghdad. The crowd mutilated their bodies and hung them from a bridge.

In 2007 the company, founded by Navy Seals in 1998, came under harsh criticism after its guards killed 17 Iraqi civilians in September, which caused mass outrage in Iraq. One Blackwater guard pleaded guilty in a U.S. court to voluntary manslaughter and attempt to commit manslaughter over the incident.

Last month the Iraqi government refused to renew the company's license to operate in the country and the U.S. State Department said it would not renew its security contract with the firm, which boasted some 25,000 employees in Iraq at one point.
Blackwater's latest attempt at re-branding itself would be hilarious if the company's record wasn't so deadly

Author Jeremy Scahill